Issue 71 – 23rd September 2014

Publications, discussions, views, meetings, training courses, online interactions…this edition of GCP News has it all! … And that's only the beginning! Add to this the latest offerings from the Integrated Breeding Platform, a selection of blogposts in print, a blogpost bonanza on cereals and comparative genomics, and crisp new videos on cassava in Africa. Also, read up on plans to document GCP's literary legacy as IBP takes up the GCP mantle, and finally, a fond farewell from a familiar face. Read on!

1. Publications, posters and parleys: General Research Meeting 2014
In time-honoured tradition, GCP has produced two key publications, in tune and in tandem with the upcoming General Research Meeting (GRM) to take place in Thailand from the 7th to the 10th of October: Project Updates 2014 and Poster Abstracts 2014.
More

2

. GCP Director's opinion piece published in SciDev.Net


Read all about the nexus in agricultural research for development (R4D) where 'upstream' innovation meets 'downstream' applications – the place where GCP operates, as Jean-Marcel Ribaut, GCP's Director, explains in his opinion piece entitled How to build research partnerships that benefit farmers. More

3. CGIAR Fund Council visit, and lessons for CGIAR Research Programmes
In the sidelines of their meeting in Mexico in early May 2014, the CGIAR Fund Council members visited our Host Centre, CIMMYT. The programme for the day included a GCP session at which the GCP Director, Jean-Marcel Ribaut, presented findings of the recent GCP Final External Review, and how some of GCP's experience in the areas of research, partnerships, governance and management could inform the CGIAR Research Programmes (CRPs). More

4. Applications invited: training on Next-Generation Sequencing Technologies for Crop Improvement
The 11th training course on Next-Generation Sequencing Technologies for Crop Improvement will be taking place from 17th to 28th November 2014 at ICRISAT's Center of Excellence in Genomics, in Hyderabad, India. The course targets interested scientists who practice, or have the potential to deploy, molecular breeding. Apply before 25th September 2014. More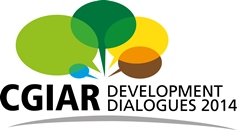 5. CGIAR Development Dialogues 2014: Calling all budding bloggers and data designers!
CGIAR's pioneer event Development Dialogues 2014, to take place on 25th September 2014 at Columbia University, New York, USA, will focus on the vital role of agriculture, livestock, forestry, fisheries, landscapes, and food systems in achieving sustainable development. To develop dialogues on these topics, CGIAR has launched a couple of exciting online competitive interactions:
Talking Science, encouraging CGIAR researchers and partners to share details of their research projects through blogposts, and
Living Data, inviting the general public to repackage CGIAR research facts, figures and open source data in new and exciting online ways. More
IBP bulletin


6. IBP's Breeding Management System
A new version of the Integrated Breeding Platform's Breeding Management System (BMS) will be released soon! Watch this space for further news. In the meantime, take a trip down memory lane to experience BMS version 2.1, which brought a fresh and more robust 'blend' of breeding tools to the IBP stable back in May this year, offering improved usability, refined functionality plus further enhancements and new features. More

7. Retooling developing-country crop breeders: IB–MYC 2014 on course
The Integrated Breeding Multiyear Course (IB–MYC) has entered its third and final year. Implemented through our Integrated Breeding Platform (IBP), IB–MYC aims to promote and enable the adoption of modern molecular-breeding (MB) strategies and facilitative informatics technologies by developing-country breeding programmes. More
Communications round-up

8. Conversations on crop breeding: from blog to print, GCP strives to keeps crop research on everyone's lips
A selection of GCP's bubbliest blogposts has been repackaged for print, with a limited edition exclusively available for participants at our upcoming General Research Meeting early next month. Sneak preview


9. Cereal gang attacks drought, disease and poor soils, new blogposts testify
A serial of nine new cereal blogposts record the deeds and conducts of a selection of cereal suspects as they line up at research stations around the world. And the cereal gang is not working alone: maize, rice and sorghum, are being aided and abetted by comparative genomics, using 'molecular breeding' as their weapon. Access the abridged court notes here

10. Cassava: vibrant videos take us back to the roots of one humble down-to-earth crop
Join our eponymous crop hero on an epic video journey, through time and across continents to hear cassava's research tale from Chiedozie Egesi, plant breeder and geneticist at Nigeria's National Root Crops Research Institute (NRCRI). More

11. GCP's sunset communications to document our legacy, as the curtain rises on IBP's Phase II
As the sun begins to set on GCP's horizon, so the Programme tunes up to play its finale: the 'Sunset Symphony' – a communications concerto comprising refrains evoking stories from GCP's decade-long R4D and partnership performance. Encore

12. Bye bye, Gillian!
This month, GCP says farewell to Gillian Summers, our longest-serving Communications Assistant, leaving us for greener pastures, quite literally! More