People, news and networks are the focus of today's issue. Who's joining us and who's leaving? Who are the newsmakers who've been talking to us lately? We are also recruiting, seeking a new member to join our team. Also in this issue, we bring you news on a new network and video series...
1. Vacancy – IBP Communications Officer


We are recruiting for a Communications Officer for our Integrated Breeding Platform. More

2. Changes in staff and Product Delivery Coordinators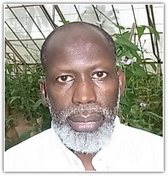 First, news from the future: Xavier Delannay and Rajeev Varshney will be leaving GCP next month (August 2013). Coming back to the present, please join us in welcoming two new Product Delivery Coordinators (PDCs) who are already on board. Ousmane Boukar (pictured) is our PDC for cowpeas, while Patrick Okori is the groundnuts PDC. More

3. Going nuts about groundnuts and genomics


Still on legumes, this month, we've been promoting our groundnut work in social media through a series of videos. In case you missed the action, which has a healthy dash of genomics, you can catch it all here.

4. Agricultural Genomics Network (AGN)


Keeping it genomics, way back in April, we announced this network which is part and parcel of our community-building efforts. Just in case you missed it, here it is again.

---