Issue 60 –

12th

April, 2013
GCP News is back with a bang this April, springing to life with news of genius genomic discoveries, publications and events. Then a peppering of PhD prizes, public-private-partnerships, products and plant breeding truly spice up proceedings! We celebrate a birthday, and hear about the ventures of the GCP gang, with some momentous meetings along the way. We update our community on events in the offing, then get down to a reading revolution with highlighted posts from our blog. Finally, GCP Media closes this mega news event with the latest from GCP TV, radio, social media, our website, and our blog. Enjoy!
News

16. Social media universe expanding
GCP continues to grow in online social media, and thanks once more to those of you who have 'liked' us and 'followed' us on Facebook, Twitter and LinkedIn. Further heavenly bodies in this starry array include: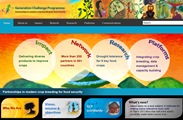 17. GCP shows its true colours through vibrant website redesign
Since midsummer 2012, GCP's online space has shown a kaleidoscopic face to the world, with a novel 'look and feel' much in keeping with GCP's spritely spirit. We hope that both navigation and appearance have been agreeable to our public, and thank you once more for your patience whilst content in all areas is updated. Our home address remains www.generationcp.org

18. A little brag about our blog...
Graduating from the Web Academy at the same time as our redesigned website, the GCP Blog is another fairly new yet enthusiastic member of the GCP media team. If you have not yet done so, we invite you to visit our slice of blogosphere, where you can learn even more about the GCP world.
---