Talking Science and Living Data: CGIAR engaging cyberspace in Development Dialogues 2014
Wednesday, 03 September 2014 16:44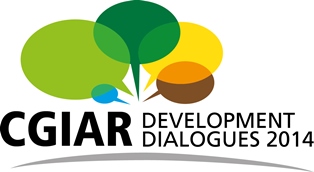 CGIAR is shining the global spotlight on agricultural research with its pioneer event Development Dialogues 2014, where conversations will converge on the vital role of agriculture, livestock, forestry, fisheries, landscapes, and food systems in achieving sustainable development. The event is scheduled for 25th September 2014, at Columbia University, New York, USA.
To break the ice and get the conversations going, CGIAR has launched a couple of exciting online competitive interactions.
The first, called Talking Science, encourages CGIAR researchers and partners to share the specifics of their research projects, and to showcase their direct relevance to the UN Sustainable Development Goals.
The deadline for submitting blogpost entries has been extended by another month to 15th October 2014, and we invite all GCP researchers to dust off that digital quill and parchment, shake your inner muse, and use words of inspiration to inspire others about the very work you do!
Those entering the competition will be able to get just a little help from your friends, the CGIAR communications staff, for editorial assistance.
Blogposts will be published on the Development Dialogues website.
Further particulars including submission details, selection criteria and prizes can be found here.
Love data? Then make sure it's alive and kicking!
The second online interaction, called Living Data, encourages the general public to repackage CGIAR research facts, figures and open source data in new and exciting online ways (such as with infographics, photo films, animated graphics, among others). The deadline for submissions has likewise been extended by a month to 15th October 2014. Check out all the rules, regulations and nitty-gritties here.
Winners will be announced on 25th October 2014.
Good luck to all budding bloggers and data designers!