Crawford Fund Fellowship 2010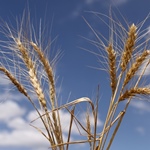 The Crawford Fund Fellowship aims to provide further training for an agricultural scientist whose work has shown potential. This prestigious award provides an opportunity for the successful candidate to spend a period of focused study and training in Australia, to the benefit of the Awardee as well as to their country's agriculture and to Australia.
The training will take place in an Australian institute and will emphasise the application of knowledge to increase agricultural production in the Fellow's home country.
Eligibility:
Candidates should be:
Below the age of 35
From one of the following developing countries: Bangladesh, Bhutan, Burma, Cambodia, East Timor, Fiji, Indonesia, Laos, Nepal, Niue, Papua New Guinea, Samoa, Solomon Is, Tonga, Tuvalu and Kiribati, Vanuatu or Vietnam.
Deadline for nominations: 12 April 2010.
Interested candidates should note that Fellowship nominations require the support of both an Australian citizen and the Officer-in-Charge of the nominee's institute or department.
Contact: This email address is being protected from spambots. You need JavaScript enabled to view it.
For more information on the Fellowship and on how to apply, please visit the Crawford Fund website
GCP scientist releases milestone book on 'Molecular Plant Breeding'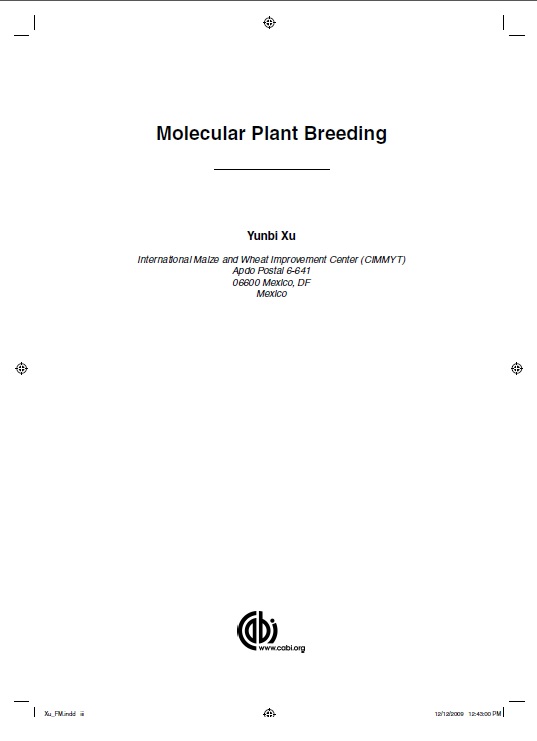 GCP scientist Yunbi Xu has written a 752-page book on 'Molecular Plant Breeding', considered to be an encyclopedic handbook for molecular breeding in plants. The book is dedicated to Nobel Peace Laureate and renowned wheat scientist, Dr Norman E Borlaug, who passed away in September 2009.
The book, to be published on 26th February 2010 by CAB International, UK, took nearly a decade to prepare, and has been reviewed by over 30 worldwide experts. Xu was the sole author of the book, although the publication contains a foreword from both Dr Ronald L Phillips (University of Minnesota, USA) and from Dr Borlaug himself.
The book contains 15 chapters in total, with Molecular Plant Breeding Tools, Populations in Genetics and Breeding, theory and practice of Marker-Assisted Selection and Intellectual Property Rights being just a few of the themes examined.
A preview of the preliminary pages of the book, including a memory note to Dr Borlaug, a table of contents and the forewords, is available on our Research publications page.
GCP Fellow has paper published in Molecular Breeding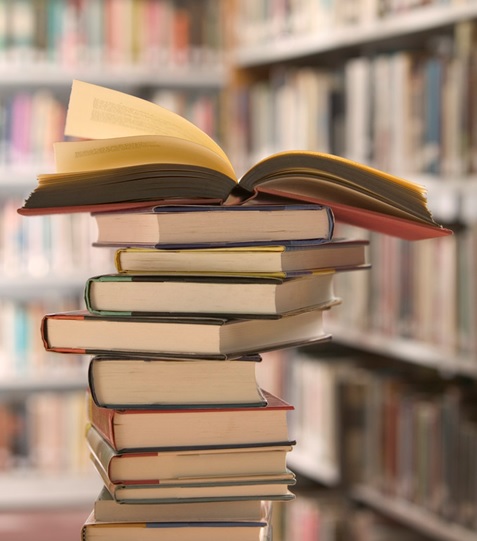 2006 GCP Fellow Maxwell Darko Asante from the CSIR–Crops Research Institute in Ghana has seen his paper on The genetic origin of fragrance in NERICA1 published in the online version of highly esteemed journal Molecular Breeding.
The paper, based on Maxwell's GCP-funded fellowship project on Quality rices for West Africa: mapping of aroma gene in Nerica rice, carried out at Cornell University, USA, and supervised by GCP alumni scientist Susan McCouch, examines the cause and origin of fragrance in NERICA1, a fragrant rice inbred line developed from an inter-specific cross between two non-fragrant parents.
The paper, for which Maxwell was the lead author, was also the work of contributing authors from Cornell Univeristy, Kwame Nkrumah University of Science and Technology in Kumasi, Ghana and African Rice Centre (AfricaRice) in Benin.
Please join us in congratulating Maxwell and his collaborators for their key achievement!
To read Maxwell's paper, go to our Research Publications page.
To view details on other GCP Fellows, please visit our Capacity-building corner.
Chickpea manual released by TLII collaborators

A team of scientists from the International Crops Research Institute for the Semi-Arid Tropics (ICRISAT) have written a manual entitled 'Chickpea seed production' which promises to provide comprehensive information on improved seed production technologies for growing a healthy seed crop of chickpea and storage of chickpea seed.
The manual, which addresses topics such as Seed systems in India, Seed production technology and Seed processing, amongst others, is intended for chickpea seed growers involved in formal and informal seed systems. The publication has been supported by the Tropical Legumes II project, twin of GCP's Tropical Legumes I (TLI) project.
To see the Manual, please download here.
Gene flow book co-written by SP5 Leader now available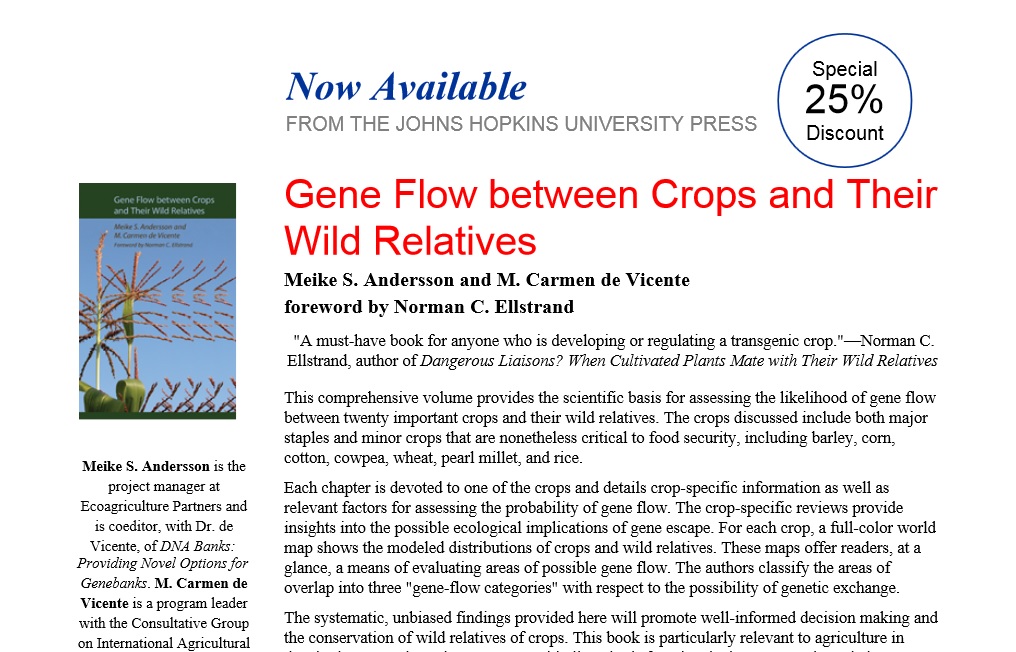 Following our announcement of last year on a soon-to-be-published book co-written by GCP SP5 Leader Carmen de Vicente, we are pleased to announce that the book, entitled Gene flow between crops and their wild relatives, has been published by Johns Hopkins University Press and is now available in the public domain.
The publication, which has been praised as a "must-have book for anyone who is developing or regulating a transgenic crop", provides the scientific basis for analysing the chances of gene flow and introgression from twenty genetically-modified crop varieties to their wild populations. The book examines both major staple and minor, or 'orphan', food crops considered vital to food security, including barley, maize, cotton, cowpea, wheat, pearl millet, and rice.
Through crop-specific analyses of the possible ecological implications of gene escape, together with full-colour world maps demonstrating the modeled distributions of crops and wild relatives, readers are offered a means of a means of evaluating areas of possible gene flow.

In presenting systematic, non-biased findings, the book promises to promote well-informed decision making and the conservation of wild relative crops, representing a key tool for anyone working towards the goal of food security whilst also preserving crop biodiversity.
GCP extends its congratulations to Carmen for this this most noteworhy achievement!