Open call for Proposals: Development of an analogue method for examining both spatial and temporal analogues based on multiple climate projections

Open call for Proposals: Development of an analogue method for examining both spatial and temporal analogues based on multiple climate projections
The Climate Change, Agriculture and Food Security Challenge Programme (CCAFS-CP) is a network of the world's leading researchers in agricultural and Earth system sciences. This challenge programme works to overcome the threats posed to food security by climate change, to enhance livelihoods and to improve environmental management.
The objective of the programme's research theme Adaptation pathways under progressive climate change is to achieve farming systems adapted to changing climatic conditions through the development of improved crops, livestock, farmed fish, and natural resources management. This will require the development of new technologies and testing of the same across a range of pilot sites, as well as modelling activities to out-scale the potential of individual adaptation options across a wide-range of geographies.
Towards this end, CCAFS is requesting the submission of project proposals for the development of an initial analogue methodology and proof of concept for identifying and mapping spatial and temporal analogue sites across the globe based on multiple climate projections.
Applicant consultants/research teams should have a strong modeling and computational background, and proven track record in development of similar tools/methodologies. Those with already advanced analogue methods will be given preference.
Deadline for submission of applications: 10th August 2010
For more information, download the full details of the call here.
Update on the 3rd GSS call for applications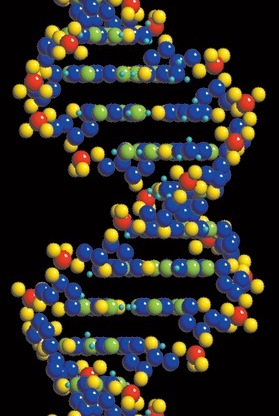 A large number of the proposals for the 3rd GSS Call were of an exceedingly high quality and we sincerely thank the applicants for their enthusiastic and meticulous participation in this competition.
Unfortunately, a number of factors have delayed the publication of the results of the rigorous selection process. GCP is currently working expeditiously to resolve these issues, while at the same time ensuring we do not compromise the quality or integrity of the process.
We remain fully committed to GSS and we will publish the outcome of this call at the earliest opportunity.
CIMMYT vacancy: Biometrician for African Maize Improvement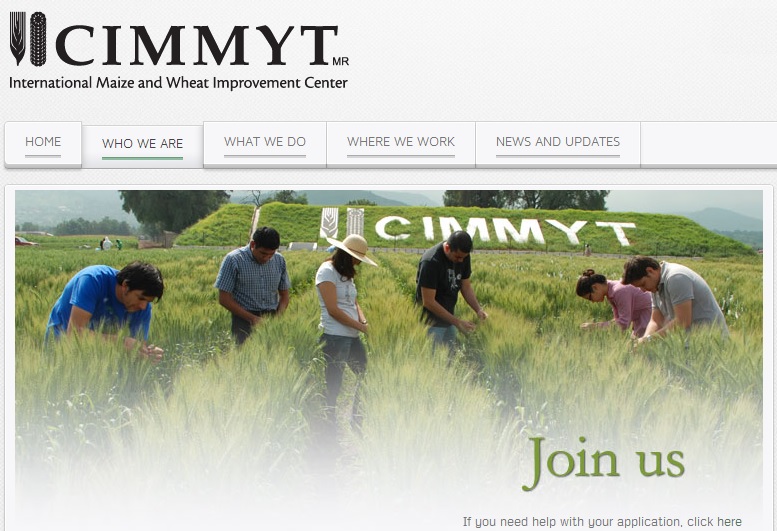 CIMMYT vacancy: Biometrician for African Maize Improvement
The International Maize and Wheat Improvement Center (CIMMYT) is seeking an innovative, results-oriented agricultural scientist with excellent skills in experimental design and statistics to support its cutting-edge maize improvement programs in Africa. CIMMYT's high-impact maize breeding effort in eastern and southern Africa, strongly supported by leading development donors, serves smallholder farmers in some of the world's most difficult and stress-prone environments. By joining our international team of plant breeders, geneticists, agronomists, and social scientists, you will have the opportunity to work on problems as diverse as estimating the performance of new varieties and management systems in farmers' fields, controlling for soil variability in low-fertility fields to improve breeding precision, and understanding the fertilizer use and variety adoption patterns of smallholders in maize-legume farming system. A key task will be to use cutting-edge experimental design and statistical methods to increase the rate of genetic gain in African maize breeding. As an Africa-based member of the CIMMYT Crop Research Informatics Laboratory (CRIL), you will work closely with CIMMYT's elite research teams, as well as with partners in advanced laboratories, seed companies, and national research programs world-wide, to improve the lives of African farmers and consumers who depend on maize for livelihoods and food security
We are seeking candidates with the following qualifications:
Interested applicants must possess:
A PhD in statistics, biometrics, or plant breeding
Demonstrated understanding of agricultural research
Excellent statistical computing skills, including proficiency in R, SAS, and GENSTAT
The ability to work effectively in multi-disciplinary and multicultural teams
Strong organizational skills and leadership skills
Excellent written and verbal communication skills in English.
Deadline for applications: 31st August 2010
For more details on the position and on how to apply, please see the Vacancy Announcement.
Fifth International Training Course at NBPGR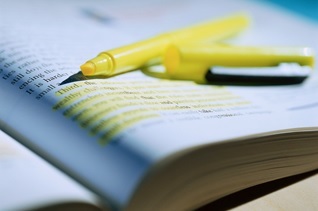 Fifth International Training Course at NBPGR
The National Bureau of Plant Genetic Resources (NBPGR)-Bioversity International Centre of Excellence is to hold its Fifth International Training Course, entitled "In Vitro and Cryopreservation for Conservation of Plant Genetic Resources: Current Methods and Techniques", from 15th to 27th November 2010 at NBPGR, Pusa Campus, New Delhi, India. This will be a practical, hands-on course, designed for those currently involved in the development and use of in vitro and/or cryopreservation techniques for the medium to long-term conservation of vegetatively propagated and non-orthodox seed species.
This course aims to:
Improve skills of participants in using tissue culture techniques for conservation and management of PGR
Equip participants with essential knowledge necessary for developing and using cryopreservation techniques
Enhance the use of in vitro conservation and cryopreservation protocols for germplasm of crops relevant in their countries
Acquaint the participants with molecular techniques for PGR management
Understand the underlying principles of stress tolerance during processing for conservation
The Centre of Excellence aims to provide training opportunities to enhance the capacity of national programmes for using in vitro and cryogenic techniques for conservation of plant genetic resources. This Centre is equipped with advanced facilities for in vitro conservation, particularly cryopreservation, and staffed with knowledgeable and experienced resource persons for imparting theoretical knowledge as well as hands-on training.
Eligibility
Applicants must have prior experience in and/or be actively working on in vitro conservation and cryopreservation of PGR, stress responses in vitro and ex vitro and using molecular marker techniques in their own work.
Expenses
This is a fee-based course and participants are encouraged to seek assistance from their own organizations or other funding agencies. However, both Bioversity International and NBPGR will make efforts to identify sources of funding for a few full or partial scholarships. The course fees are US$1,700 for non-Indian participants and Rs 25,000 for Indian participants and include the following:
Lecture and course materials
Local transportation
All meals / Tea / Coffee
Accommodation
Administration charges
Deadline for submissions: 30 September 2010
Maximum number of participants: 15
For further information contact:
Dr. D. C. Bhandari, Director, National Bureau of Plant Genetic Resources
Email: This email address is being protected from spambots. You need JavaScript enabled to view it.
www.nbpgr.ernet.in
or
Dr. P.N. Mathur, South Asia Coordinator, Bioversity International, Sub-regional Office for South Asia
Email: This email address is being protected from spambots. You need JavaScript enabled to view it.
www.bioversityinternational.org
Data Manager/Training Specialist vacancy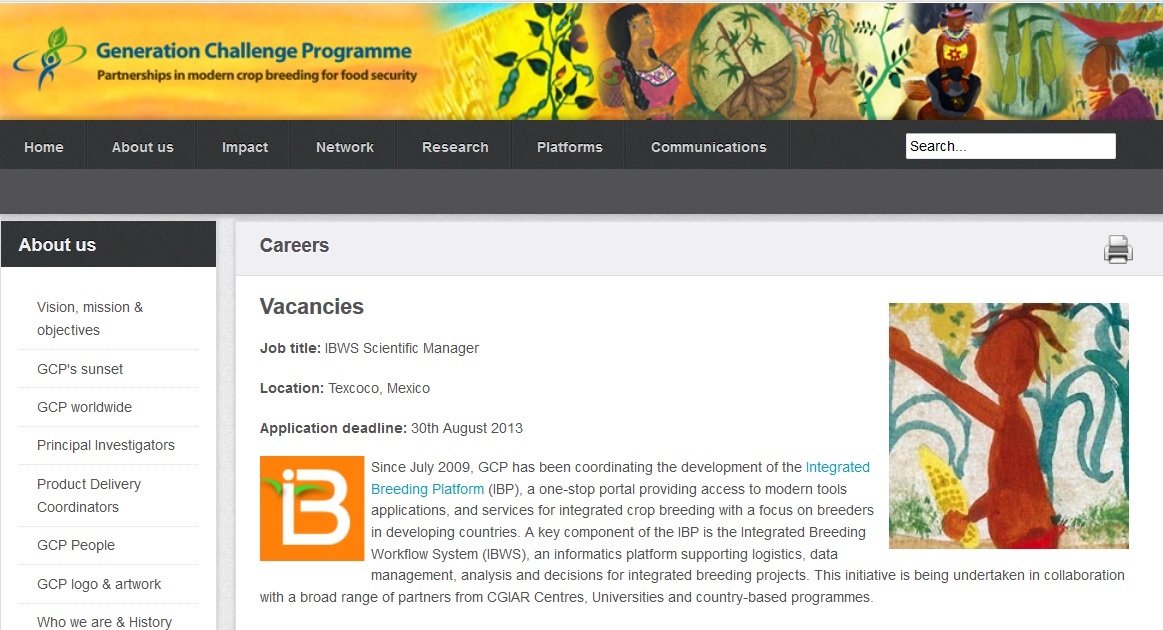 The Generation Challenge Programme (GCP) is seeking a Data Manager/Training Specialist who will manage the crop registry of GCP, provide technical support and training to project investigators and users of the Integrated Breeding Platform (IBP). She/he will maintain, update and curate the crop registry and provide support to the users in accessing it. She/he will work with the IBP Informatics Coordinator in handling training, writing training materials and providing technical support to the users of the IBP informatics tools.
The Data Manager will report to the Informatics Coordinator of the IBP and will interact with project investigators and users of the Informatics Breeding Platform to ensure that the data generated by the platform are well managed and technical support to the use cases are timely and properly done. This international position, based at GCP headquarters in Mexico, is for a fixed-term contract of three years, with possibility for renewal subject to performance and funding.
Deadline for applications: July 15, 2010
For further details on the position, organisation and on how to apply, please download the Vacancy Announcement.