New staff on board at GCP Headquarters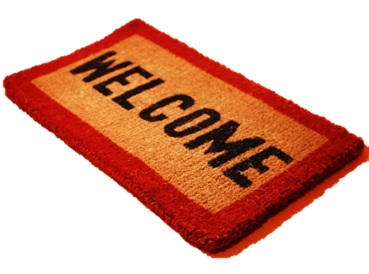 GCP's Headquarters has strengthened its capacity in recent months through the arrival of two new staff members.
Fred Okono, of Kenyan nationality, came on board in early December 2009 as a Consultant for the recently renamed 'Integrated Breeding Platform' project (formerly 'Molecular Breeding Platform'). Fred has a background in capacity development, organisational design & development, and journalism. He has previously worked in various capacities in education and training, the non-governmental sector, and on various consultancies. At GCP, Fred has been working with other team members on the Integrated Breeding Platform, the GCP Workflow Management System and Communication.
Mae Christine Maghirang also joined the team as a Consultant in December and works closely with GCP's Projects Office, providing analytical and operational support on a variety of accounting and finance operations. She serves at GCP on a half-time basis, combining it with Programme Administrator duties at our host centre – Centro Internacional de Mejoramiento de Maíz y Trigo (CIMMYT). Mae Christine previously worked at the International Rice Research Institute (IRRI) in her native Philippines for five years, gaining valuable expertise and experience in establishing accounting functions, systems and best practices and in project monitoring and reporting.
Please join us in welcoming Fred and Mae Christine to the team!
GCP's Interactive Resource Centre and Helpdesk now on Facebook!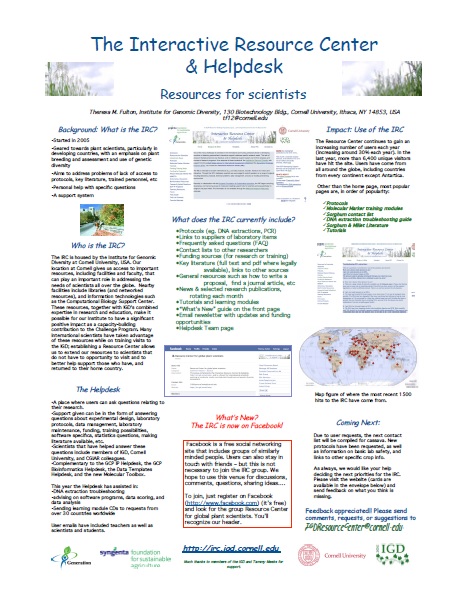 For those who are yet to explore, or who are looking to rediscover, the Interactive Resource Centre and Helpdesk – a collaborative project from GCP and Cornell University's Institute for Genomic Diversity (IGD) – we highly encourage you to do so via the user-friendly social media tool that is Facebook (a free social networking site that includes groups of similarly-minded people), with a section having been dedicated entirely to the centre.
With 131 group members to date (as of 21st April 2010), the online space is intended to complement the centre & helpdesk, acting as a forum for international scientists working on molecular marker-assisted plant breeding and genetic diversity assessment. The content of the site is open to all.
The launch of the centre & helpdesk on Facebook was first unveiled to the GCP community during a poster session at the 2009 Annual Research Meeting, with this particular poster – penned and presented by the project's Principal Investigator Theresa Fulton – having won the prize for best poster under Theme 4, Support services and enabling delivery.
To visit the Interactive Resource Centre and Helpdesk, please visit the GCP Helpdesks page.
Additional tools, resources and services are available in the GCP's Capacity-building corner.
MBP rebranded: Welcome aboard the Integrated Breeding Platform!

Platforms generally don't move, but this one is decidedly different from the start.
During the launch workshop of GCP's Molecular Breeding Platform, which took place in February 2010 in Hyderabad, India, one key issue raised by the meeting's participants was the need to craft a new name for the project, and discontinue the project's working title, which has thus far been 'Molecular Breeding Platform'. GCP is pleased to announce the new name for this key project as the 'Integrated Breeding Platform' (or 'IBP').
The new name aims to more accurately present the all-encompassing nature of the project, contrary to the image conveyed by its former name: the IBP is not exclusively about molecular breeding.
The process behind the re-naming was, in traditional GCP style, a truly collaborative and consultative one, starting with participants at the February meeting above: they fronted several alternatives. From these suggestions, and after much (highly animated!) discussion, the GCP Management Team (MT) then narrowed down to three possible names, which were then tabled to the Platform's User Committee (UC) and the Scientific and Management Committee (SiMAC). The three alternatives put to the vote were:
Option 1: Innovative Breeding Platform
Option 2: Integrated Breeding Platform
Option 3: Global Breeding Platform
More details on the some of the perspectives and thinking behind the name change are in the Public Awareness Strategy (PPT from the February workshop) and the subsequent group discussions.
The response rate from the UC and SiMAC was extremely good! Once votes had been cast and results tallied, Option 2, the Integrated Breeding Platform, emerged as the definitive winner. The new name is effective yesterday, 13th April 2010. As such, instances of the former name and its derivative acronym (MBP) in the GCP website and other communications will be replaced with the new name.
GCP sincerely thanks all the IBP collaborators for their extremely valuable input in this preliminary step in the project's branding, the first of several goals in the project's public awareness strategy.
Read more on project at the Integrated Breeding Platform website
Third International Conference on Plant Molecular Breeding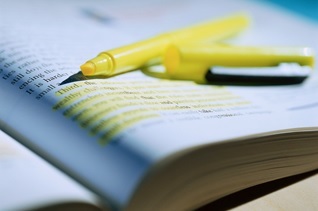 Plant scientists from around the world with an interest in molecular breeding will come together in Beijing, China, fom 5–9 September 2010 for the Third International Conference on Plant Molecular Breeding (ICPMB).
The scientific programme will include plenary sessions in the morning for four days and concurrent sessions/workshops and poster sessions in the afternoon.
Topics for the plenary sessions (one or two speakers on each subject) include:
| | | |
| --- | --- | --- |
| The role of plant breeding in meeting food security | Molecular breeding platforms | New theories/concepts in plant molecular breeding |
| Applied plant genomics | New transgene technologies, products and markets | Bioinformatic technology and analytic tools for plant molecular breeding |
| Gene/pathway discovery and functions | Crop germplasms and genetic diversity | |
| Epistasis/epigenetics | New technologies in plant molecular breeding | |
A broad range of topics for the afternoon parallel sessions will be on offer.
Registration
Earlybird deadline (for reduced fee of US$550 for regular participants, US$650 for industry participants and US$350 for student participants) is 30th April 2010. For cost of registration before and after 31st July, please consult the Conference website.
Papers and abstracts
Full length paper: The full length papers will be published in a special issue of Molecular Breeding, if the submission is accepted by the journal.
Abstract: Abstracts will be collected and presented in the proceedings, which will be indexed in the Chinese Proceedings of the Conference. Full details on the required presentation of abstracts are on the Conference website.

Deadline for submission of (voluntary) abstracts and posters:

15th August 2010
Fellowships
The conference will provide full or partial support to up to 15 researchers/students from developing countries in Africa and Asia. Applicants must submit research results to the conference in the form of an oral presentation or poster. Application should be submitted to Dr. Judy Lee at This email address is being protected from spambots. You need JavaScript enabled to view it. or This email address is being protected from spambots. You need JavaScript enabled to view it. before 30th April 2010. Acceptance letters with details will be sent to awardees by the end of July 2010.
For more information on the event and on how to apply, please visit the ICPMB website.
Agropolis–CIRAD seeks Post-doc to work on GCP sorghum project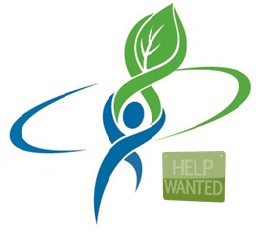 GCP partner Agropolis–CIRAD has a post-doctoral vacancy for a Plant Geneticist with a background in marker-assisted breeding and an interest in the international and finalised aspects of research for development. The selected candidate will be involved in a GCP sorghum marker-assisted breeding project and based in Mali. He/she will work on definition and follow-up of phenotyping experiments as well as methodological developments for data analysis.
Position description
Sorghum breeding in the Sahelian zone, particularly in Mali, aims at improving productivity and response to intensification while maintaining adaptation and grain quality characteristics of local varieties. Recent tools from molecular genetics and genotyping technologies enable innovative breeding strategies that allow the exploration of more allelic combinations than pedigree breeding schemes classically used in major crops.
The post-doctoral fellow will contribute to a GCP-funded project in which partners include the Institut d'Economie Rurale (Mali), Agropolis–CIRAD (Montpellier, France) and Syngenta Seeds (Toulouse, France). This Subprogramme 3 project, entitled Improving sorghum productivity in semi-arid environments of Mali through integrated MARS, implements recent methodologies for marker-assisted recurrent selection with two bi-parental populations currently being developed in Mali. The post-doctoral fellow will participate in the coordination of a first year of phenotyping, to be conducted in 2010 in Mali, and will later be involved in QTL data analysis and methodological development for MARS in conjunction with Syngenta and development teams of the GCP's Molecular Breeding Platform.
Eligibility requirements:
PhD in plant genetics and breeding
Experience in marker-assisted breeding theory and good skills in data analysis and biostatistics/informatics
Motivation for field work in a tropical area
Communicative skills in both French and English
Location: Bamako, Mali and Montpellier, France
New deadline for applications*: 7th June 2010
Start date of contract: As soon as possible
Type of contract: CDD POST DOCT, 18 months
Job reference: 1646
For more details on the vacancy and on how to apply are available on the Agropolis–CIRAD website in English and in French
*Please note that the above deadline supersedes the original application deadline of 21st April 2010.