5th World Cowpea Research Conference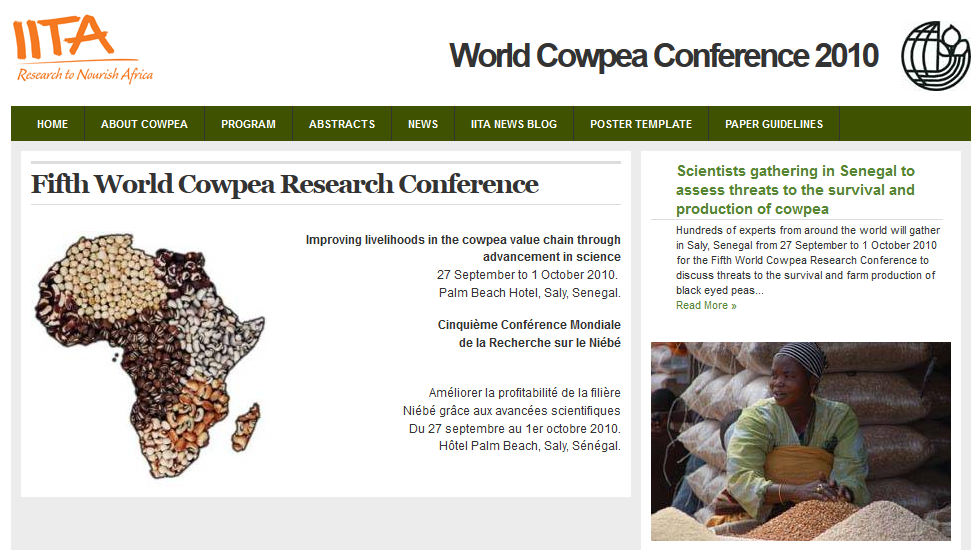 The 5th World Cowpea Research Conference will be held from 27th September to 1st October 2010 in Dakar, Senegal. The conference, organised by the International Institute for Tropical Agriculture (IITA), in cooperation with the Dry Grain Pulses Collaborative Research Support Programme (USA), Purdue University (USA) and the Institut Senegalais de Recherches Agricoles (Senegal), will cover a wide variety of topics ranging from cowpea genetic improvement and use of molecular tools, through human nutrition, to processing and enterprise development.
For more information please visit the conference website
Wheat variety more productive in saltier soils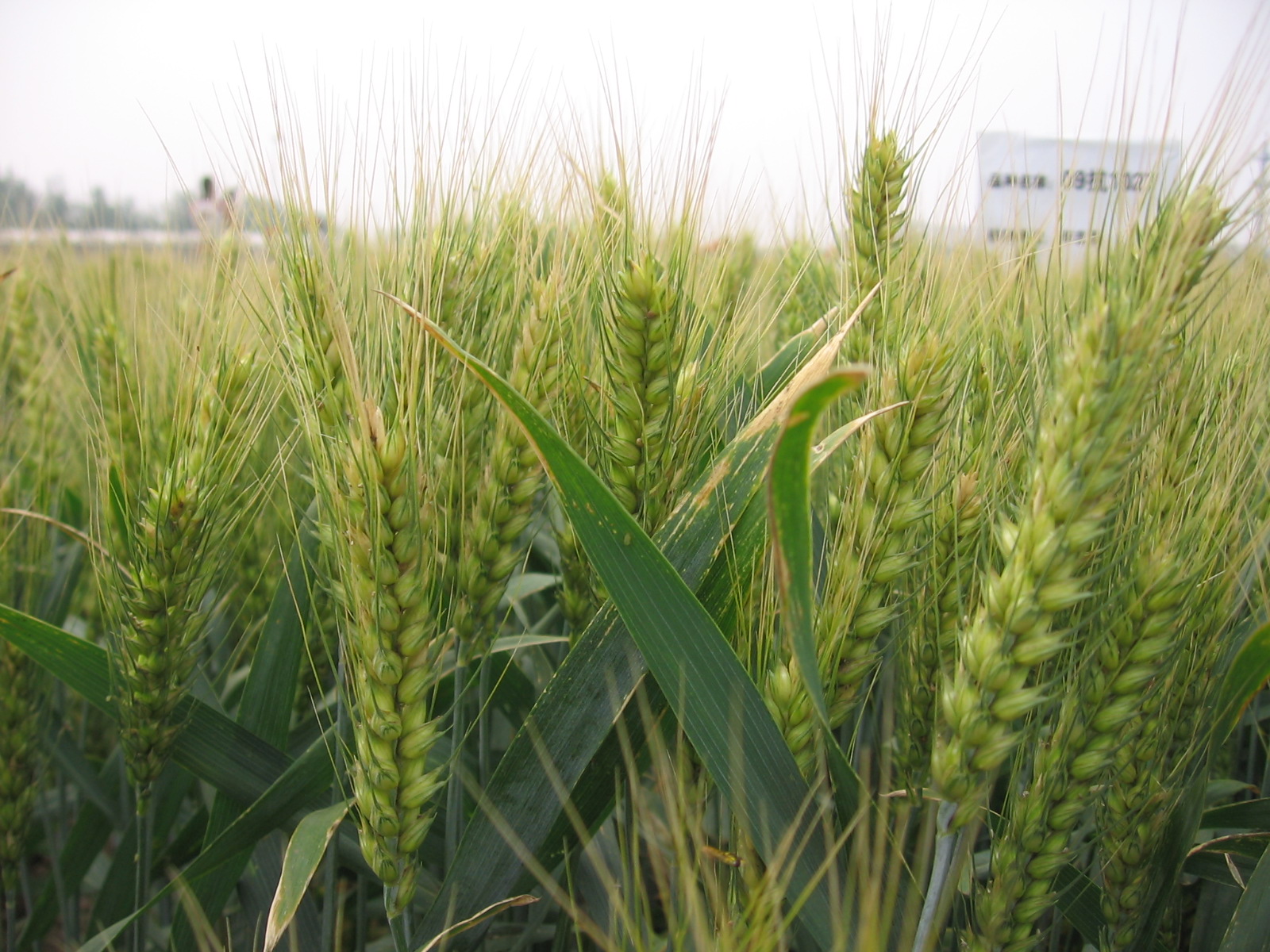 Wheat variety more productive in saltier soils
Scientists have bred an improved variety of wheat that has proven to be 25% more productive in saline soils than its normal counterpart.
To produce the improved durum wheat, which is set to be made freely available to the developing world, the research team isolated two salt tolerance genes from an old species of wheat (Triticum monococcum), and then introduced them into commercially important lines of Australian durum wheat (Triticum durum) using non-genetically modified methods. The genes limit the passage of sodium from the roots to leaves, where it can be toxic to the plant.
In an interview with electronic news network SciDev, GCP and ICARDA scientist Francis Obgbonnaya explains: "Unlike bread wheat, durum is generally intolerant to salinity so the first salt-tolerant durum line is a great achievement".
For more information, please visit the SciDev website
GCP Management change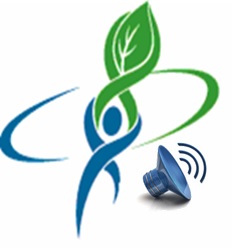 Bye Jean Christophe...
Jean Christophe Glaszmann moved on from the GCP Management Team (MT) at the end of March, having diligently served as Subprogramme 1 (SP1) Leader since GCP's inception. Over the six years he served as SP1 Leader, Jean Christophe (popularly known as JC) was on a joint appointment between GCP and CIRAD (Centre de Coopération Internationale en Recherche Agronomique pour le Développement), where he now resumes work on a fulltime basis. GCP is deeply thankful to Jean Christophe for his outstanding contribution to the Programme. Jean Christophe brought not only his remarkable expertise on genetic diversity but also his vision as an experienced leader combined with an amiability appreciated by all. The MT is losing a colleague and a friend. But fortunately, Jean Christophe will continue to be involved in GCP's work in various capacities in the months and years to come.
....and a few more changes
As GCP moves from the exploration and discovery that characterised Phase I to application and impact that shall underpin Phase II, the Management Team is evolving to adjust to the project structure of Phase II. The Team will now comprise of a Director and five Theme Leaders (TLs). The five TLs will oversee the following areas: Comparative and Applied Genomics (Rajeev Varshney), Integrated Breeding (Xavier Delannay), Crop Information Systems (Graham McLaren), Capacity Building (Carmen de Vicente) and Product Delivery (Larry Butler).
Research projects previously falling under Subprogramme 1 will be redistributed accordingly within the revised structure of the Programme, with care taken to ensure they continue without disruption or inconvenience. Principal Investigators (PIs) of SP1 projects will be informed individually on the new reporting lines for their project.
Rice CI Launch workshop materials online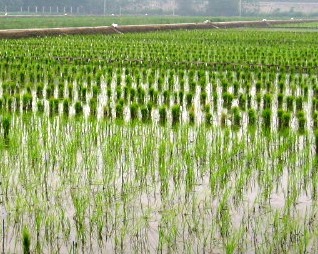 Following the recent announcement on the launch of the Rice Challenge Initiative, which took place from 13–15 April 2010 in Montpellier, France, we are pleased to share a full set of materials produced at the workshop, including meeting agenda, list of participants, presentations, and photos.
To access the materials, please visit the workshop resources section of GCP's Capacity-building corner.
Phase II of Tropical Legumes project approved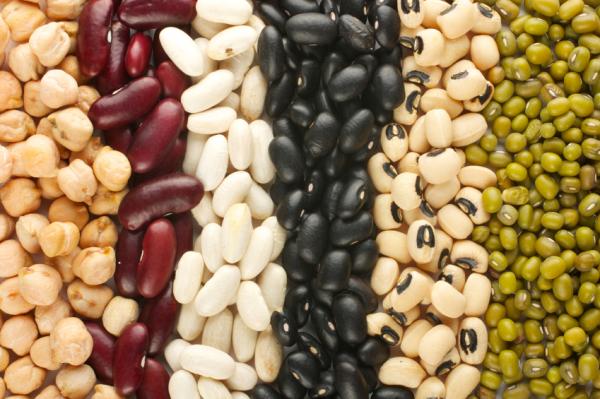 GCP is delighted to announce the approval and commencement of Phase II of the 'Tropical Legumes I' project following the submission of a research proposal to the Bill & Melinda Gates Foundation and other funders earlier this year. Phase I of the project, which is formally known as Improving tropical legume productivity for marginal environments in sub-Saharan Africa and South Asia, commenced in 2007 and ended on April 30th 2010. Phase II will span four years (2010 – 2014), having seamlessly commenced on May 1st, 2010 at the conclusion of Phase I.
The overall objective of TLI Phase II is to improve the productivity of groundnut, cowpea, common bean and chickpea for sub-Saharan Africa through the application of modern breeding approaches. Research activities in Phase I resulted in significant increases in the genomic tools for these legumes, a thorough knowledge of drought tolerance traits, as well as markers available for specific diseases. TLI Phase II will emphasise the 'application' of these outputs obtained during the first phase, using the genetic resources and genomic tools developed.
This second phase also has a strong capacity-building component that will build on Phase I efforts to improve human resources and local infrastructure. It will be implemented in close partnership with institutions in the target countries – EIAR in Ethiopia; University of Nairobi and KARI in Kenya; ECABREN, ART/DRD and LZARDI in Tanzania; INERA in Burkina Faso; IRAD in Cameroon; INRAN in Niger; IITA in Nigeria; ISRA in Senegal; SABRN and DART in Malawi; and AREX in Zimbabwe. The research activities will also be carried out in collaboration with our twin project Tropical Legumes II at ICRISAT, and also dovetail with GCP's Integrated Breeding Platform initiative and the GCP Challenge Initiatives on chickpea and cowpea.
The total budget for TLI Phase II is US$12,118,970, of which the Bill & Melinda Gates Foundation is providing US$8,468,135, with additional support from GCP's other key funders.
More details on the project's second phase are available in the Phase II project proposal narrative.
For more information on Phase I of the Tropical Legumes project, please visit the TLI website. Please note that the website will be updated in order to reflect the current realities of Phase II activities in due course.