Rothamsted International Fellowship Scheme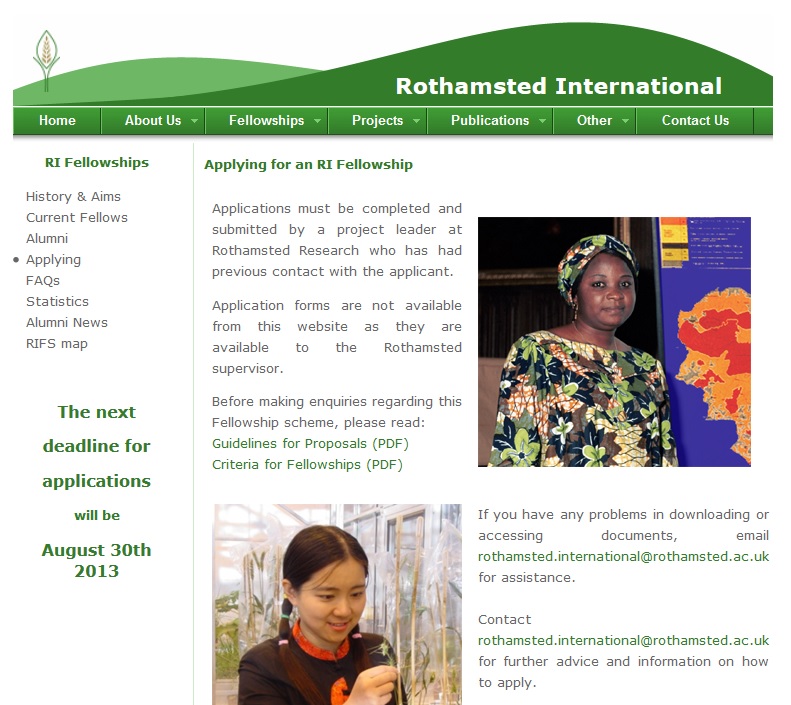 Rothamsted International (RI) is a UK non-profit organisation working for sustainable agriculture in developing and emerging countries. The Rothamsted International Fellowship Scheme (RIFS) aims to share scientific excellence in agricultural and environmental research by contributing to the development and dissemination of technologies relevant to sustainable agricultural growth across the developing world.
Through the Rothamsted International Fellowship Scheme, scientists undertake projects for 6 to 12 months at Rothamsted Research in the UK. RI Fellowships are directed towards mid-career researchers in agricultural sciences from developing and emerging countries.
Target: Mid-career scientists who are citizens of developing or emerging countries, or whose work has been based exclusively within such a country. Most applicants have doctoral status. The applications will be assessed on the basis of their scientific merit, and the potential for long-term research collaboration.
Deadline for applications:

8th May 2010
Global Food Security PhD scholarships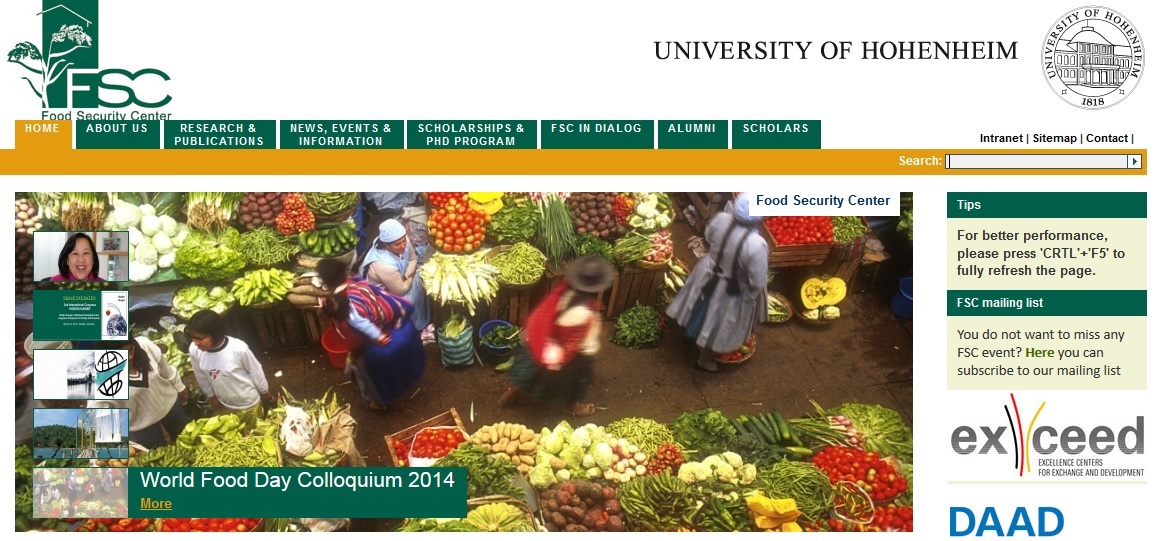 The Food Security Center (FSC), hosted by the Universität Hohenheim in Stuttgart, Germany, is offering up to 12 scholarships for PhD students from developing countries and up to two scholarships for PhD students from developed countries. The funding for both groups will be for a period of 36 months, beginning August 01, 2010.
Target: outstanding PhD students pursuing a career in academia or development collaboration. The scholarship aims at increasing their previously gained scientific knowledge and skills relevant to food security related issues.
Eligible candidates must have:

Completed graduate studies in agricultural, nutritional, natural, social, economic or political sciences, or related disciplines (preferably with a focus related to food security issues);
Outstanding study performance: excellent or very good Master's degree or equivalent with a grade of A (exceptions B);
Track record of knowledge in the proposed field of study;
Excellent proficiency in oral and written English (TOEFL with a minimum of 213 points computer based, 550 points paper based, 79 points internet based or equivalent is precondition);
Sufficient private means to cover minimum living expenses (if not applying for an 'Excellence scholarship');
Completed last academic degree less than 6 years ago, and
Intention to return to his/her home country and institutin upon completion of PhD studies.

Deadline for applications:

05 April 2010
Meetings of the minds on things that matter

As had been expected, February was an intense month at GCP, with three critical meetings running back-to-back. First was a workshop to officially launch the Molecular Breeding Platform (MBP) in Hyderabad India (17–20 February). The launch was immediately followed by an Informatics workshop, at the same venue from 20–22 February, in which the MBP users and developers reviewed and began to develop concrete information strategies for each use case. From the MBP, attention then turned to the GCP Wheat Challenge Initiative, with twin meetings taking place to launch a joint China–India research initiative to breed heat- and drought-tolerant wheat. The India launch was on 22–23 February in New Delhi, while the China launch was 25–26 February in Beijing.
More details
The Yara Prize: Nominations now requested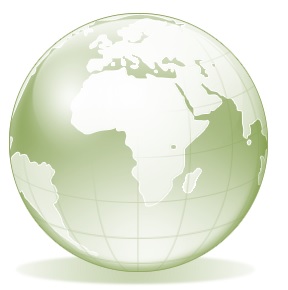 The Yara Prize for a Green Revolution in Africa has a focus on food: the improvement of food production and availability and the development of local markets in Africa, as a contribution to reducing hunger and poverty. The prize recognises such efforts and results in any field of work clearly related to combating hunger, improving health and reducing poverty in Africa, within every aspect of agriculture and food production supporting the development of both the input and the output market. The prize was launched in 2005 and consists of a USD 100,000 grant, a glass trophy and a diploma.
Eligibility: Any qualified candidate or candidates recognised for their contributions to reducing hunger and poverty in Africa.
Deadline for nominations:

1st April 2010
GCP kicks off Wheat CI meetings in India and China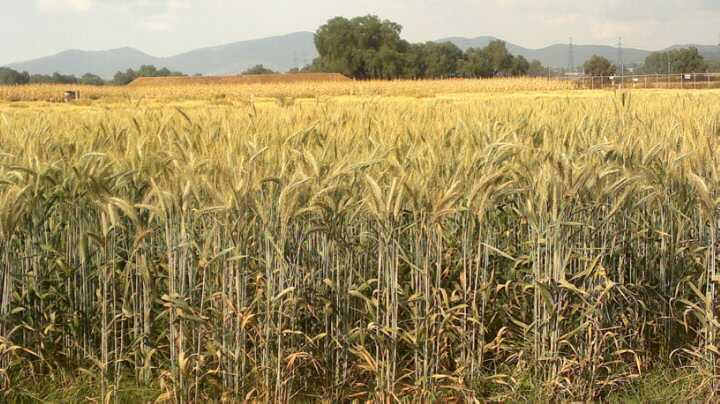 After months of preparatory discussions and virtual interactions, GCP wheat collaborators were finally brought together in February for twin meetings which took place in India and China, marking, together, the official launch meeting of GCP Challenge Initiative (CI) Improving drought tolerance in wheat for Asia, often referred to by its collaborators as 'Wheat in Asia'.
Wheat in Asia is one of the seven GCP CIs that are a key priority for GCP in Phase II (2009–2013). The wheat CI is a joint China–India research initiative led by scientists from both countries, working in close liaison with several GCP partners to breed heat- and drought-tolerant wheat.
The launch meeting for the Indian CI, which took place on 22–23 February in New Delhi, and which was hosted by the National Academy of Agricultural Sciences, centred its discussions on the theme of Molecular breeding and selection strategies to combine and validate QTLs for improving water-use efficiency and heat tolerance of wheat in India. There was much to be covered across the course of a two-day programme, which included – among other things – a technical session on project objectives, strategy and milestones; and sessions on capacity-building, data management and product development plans. A key outcome of the meeting was the finalisation of the proposal. Decisions on targeted deadlines and expected outputs were also taken. The meeting was rounded up by a field visit to some local wheat fields, including the proposed site for the phenotyping facility development.
The launch of the Chinese wheat CI took place immediately after its Indian counterpart on 25–26 February in Beijing, China, and focused on Breeding and selection strategies to combine and validate QTLs for WUE and heat tolerance in China. The meeting, hosted by the Chinese Academy of Agricultural Sciences (CAAS), involved discussions on the CI workplan, focusing on the main themes of germplasm (ie, its availability and logistics of distribution), phenotyping sites and protocols, and genotyping. Timelines and milestones were agreed upon, and matters of data management and curation as well as training and capacity building were discussed. As in the Indian CI launch workshop, the group learnt about preparation of solid delivery plans from GCP Product Delivery Leader Larry Butler, before taking advantage of a designated timeslot to prepare their own delivery plans on-site at the meeting. The formulation of such Delivery Plans marks a key element of GCP's highly structured approach towards the Wheat Challenge Initiative, an approach which is also strengthened by the project-specific breeding schemes jointly designed with SP3 Leader Xavier Delannay, in close consultation with project teams. This structured approach aims at not only ensuring delivery but also long-term and sustained impact beyond the project horizon.
For more information on the two workshops, including a Feature story, agendas and lists of participants, please visit our Workshop resources page within GCP's Capacity-building corner. Additional presentations from the events will be made available in due course.
More information on GCP's Challenge Initiatives is available here.