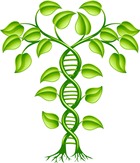 This Theme focuses on the integration of molecular breeding technologies into the breeding programmes led by GCP's country and CGIAR partners. Our workplan for Phase II (2009–2014) is building on a set of seven focused Research Initiatives (RIs) supported by an integrated breeding service component – the Integrated Breeding Platform (IBP).
While the RIs aim to demonstrate – through selected user cases – that modern and integrated breeding approaches can have a significant impact on crop productivity in developing countries, IBP is a vehicle for dissemination of knowledge and technology, enabling broad access to, and proactive distribution of, crop genetic stocks and breeding material; molecular, genomics and informatics technology and information; cost-effective high-throughput laboratory services; and capacity-building programmes.
Each RI is crop- or crop cluster-, region- and trait-specific for meaningful impact by GCP's closure in 2014.
IBP also hosts nine communities of practice (CoPs) for the nine crops that are associated with the platform. And because molecular-breeding approaches are data-intensive, there is a tenth community for data managers.