Improving drought tolerance in rice for Africa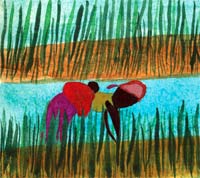 Good news on rice! Global paddy production hit a new record high of 666 million tonnes in 2008.
However, in Africa, rice production has not increased at the same rate and has not been able to keep pace with increasing demand. Only 54 percent of the sub-Saharan Africa rice consumption is supplied locally. West Africa's rice production is hindered by various abiotic and biotic factors West Africa, of which drought the key constraint.
The impact of drought driven by erratic rainfall and poor water control in rainfed lowland ecosystems affects rice yield in approximately 80 percent of the total rice-growing area in Mali, 67 percent in Burkina Faso and 48 percent in Nigeria.
The rice Research Initiative focuses on the rainfed lowland rice ecosystem in these three countries. The project is:
characterising the drought profiles of the target population of environments in inland river valleys;
identifying drought-related traits of interest using novel phenotyping methodologies (which enable efficient separation of genetic and environmental effects); and,
establishing and test a marker-assisted recurrent selection (MARS) scheme to develop better-adapted drought-tolerant rice.
Developing drought-tolerant cultivars that have a high yield potential in normal years and provide a good yield under drought and other major stresses for each target environment will help sustain rice production in the large rainfed lowland ecosystem across Africa.
Research objectives
Characterising the target population of environments (TPE), identifying novel traits and protocols for drought tolerance, improving drought tolerance through MARS breeding projects, and developing physical and human capacity.
More information
Visit our Rice InfoCentre, which also has onward links to resources for researchers and an open-access book chapter on phenotyping rice for drought, as well as facts and figures, videos, podcasts and blogposts in everyday language.
Through our Product Catalogue, browse what we offer for rice.