Download the low-down on plant phenotyping: GCP's long-awaited popular publication now available online
Like rest to a tired traveller, or a refreshing breeze after a long day under the sun, our proverbial 'pot of gold' publication will be savoured much more by all those who have been patiently waiting for a taste of this tome. Drought phenotyping in crops: from theory to practice is an epic volume whose path from concept to publication has at times taxed the patience of many, though the challenge was valiantly borne by all.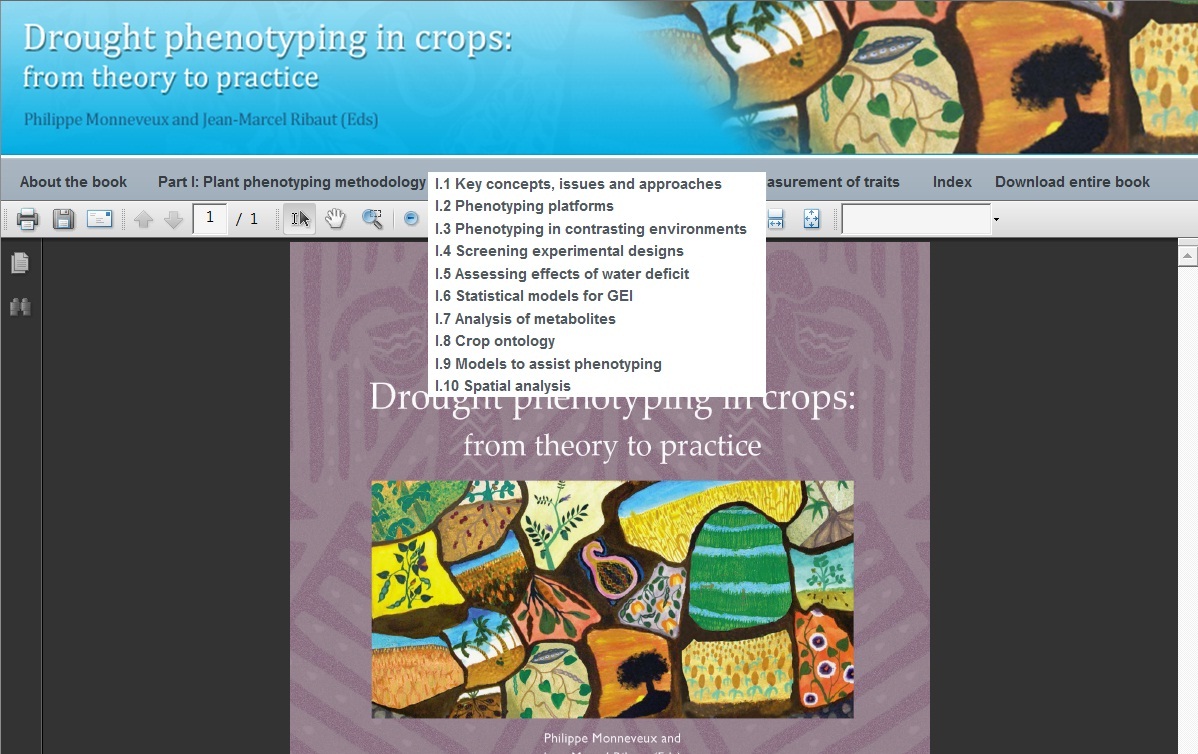 GCP is delighted to announce that this book is now fully accessible online. Visitors can thumb through the chapters one by one, or alternatively download the whole book. Part I is on methodology while Part II is on application covering the following 14 crops:
Cereals: maize, millet, rice, sorghum, wheat
Legumes: beans, chickpeas, cowpeas, groundnuts, pigeonpeas
Clonal crops: bananas and plantains, cassava, sweet potatoes, GCP is extremely grateful to all the 89 authors who contributed to this volume, and to the editor.
To ensure the widest possible dissemination, the book has been published under the Creative Commons (CC) Attribution-NonCommercial-Share Alike 2.5 Mexico licence. Special thanks to Francesca Re Manning (then with the former CGIAR Central Advisory Services, Intellectual Property [CAS-IP]) and to Petr Kosina (then with CIMMYT) for their advice on CC publishing.
The book is also available on CD. If you wish to receive a CD of the book, please send an e-mail request, with your mailing address provided, to This email address is being protected from spambots. You need JavaScript enabled to view it. .
GCP catapults CoPs into creation for a crescendo of capacity construction

The first half of 2011 marked a season of community goings-on at GCP, as a series of comprehensive discussions on the formation, expansion and management of communities of practice (CoPs) were succeeded by the successful launch of several crop-specific CoPs. Read more
UMUCASS33: the new bug-busting, high-harvesting, taste-tingling cassava variety now in Nigeria

GCP is delighted to announce the release of UMUCASS33, a new disease-resistant high-yielding cassava variety, a cross-continental perfect pedigree of South American and African parentage. Nigeria's National Root Crops Research Institute (NRCRI) at Umudike, one of GCP's partners, developed this variety in close collaboration with Centro Internacional de Agricultura Tropical (CIAT). Nigeria is the world's leading producer and consumer of cassava.
The GCP-funded diversity studies, led by the International Institute of Tropical Agriculture (IITA), revealed that the genetic base of cassava is very narrow, meaning that it can easily succumb to disease - as NRCRI's Dr Chiedozie Egesi explained – which meant that crossing South American and African varieties was essential to ensure success, as South American cassava cannot survive in Africa.
The end result of this happy marriage was higher yields and tolerance to acid soils conferred from the South American parentage, and resistance to cassava mosaic disease (CMD) from the African side of the family tree.
In a similar vein, the project's team leader at NCRCI, Dr Emmanuel Okogbenin also emphasised the importance of partnerships in the project, but those between research organisations, high-quality information, breeding schemes, and laboratory and fieldwork – the combination of which is crucial for successful breeding.
To get in-depth insight into this great example of a practical application of marker technology in cassava, please read the full story.
Big boost for bean breeding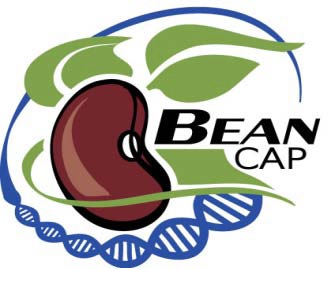 The Bean Coordinated Agricultural Project (BeanCAP) is pleased to announce the release - into the public domain - of the first instalment of resources to boost molecular breeding in common beans. BeanCAP is releasing to GCP information on more than 1,575 bean SNPs that will broaden the genetic tools available to developing-country bean breeders. 'SNPs' (pronounced 'snips') is a technical term, and the abbreviation is derived from 'single nucleotide polymorphism' - an advanced molecular-marker system widely used in genetic science, but SNPs have not been available in critical amounts to bean breeders until this landmark release. By reducing not only time but also cost, the use of SNPs for molecular breeding greatly increases the efficiency of crop breeding. This means it has high potential for improving food production in the tropics by developing new varieties better adapted to increasing environmental challenges.
The USA BeanCAP team of plant breeders and geneticists is led by Dr Phil McClean, BeanCAP Project Director, and Researcher at North Dakota State University. The SNP marker development and evaluation was conducted by Dr Perry Cregan, a BeanCAP team member, and legume Research Leader at the Agricultural Research Service of the United States Department of Agriculture (USDA-ARS) in Beltsville, Maryland. "These SNPs were evaluated on 384 bean cultivars, including cultivars of Mesoamerican and Andean origin," clarified Dr Cregan. "The SNPs donated to GCP fall into two groups: one selected to function well in the Mesoamerican and the other in Andean germplasm. Both sets will be suitable for applications in the breeding of tropical bean germplasm."
"This transfer is consistent with the USDA Feed the Future commitment to be actively engaged in global food security efforts," Dr McClean observed "It supports the research objective to seek gains in productivity through adoption of improved technologies that will promote development of more nutritious, environmentally sustainable and climate-resilient crops. Transfer of these molecular markers is consistent with a USDA strategy that envisions outcomes that will deliver scientific breakthroughs, and research to promote adoption of the best science through links with private-sector research partners and international agencies."
BeanCAP will partner with GCP to aid in the dissemination of the SNPs to developing-country researchers. "GCP works with a wide network of partners within and outside the CGIAR system, and this should ensure broad dissemination of these new bean resources to researchers across the world, particularly in the global South," said Dr Xavier Delannay, Leader of Integrated Crop Breeding at GCP. "The BeanCAP SNPs are a welcome and much-needed resource for bean molecular breeding since sufficient SNPs had not been previously available for this critical food crop."

A boon to bean breeding in the tropics
E-learning course: Pre-Breeding for Effective Use of Plant Genetic Resources

An announcement from Bioversity International:
"In response to increasing demand for capacity building on pre-breeding, the Global Partnership Initiative on Plant Breeding Capacity Building (GIPB) has just launched an e-learning course on Pre-breeding for effective use of plant genetic resources for plant breeders and germplasm curators and others engaged in germplasm management and/or crop improvement. It can also be used for teaching and learning about pre-breeding both in formal education and on-the-job training.
We believe that this practical, self-paced instructional tool would be of interest to your web site users, partners and collaborators. For more information about the course,

click here for the brochure. You can access the e-course or request a copy of the course on CD from the GIPB web site here."