Plant Breeding for Drought Tolerance programme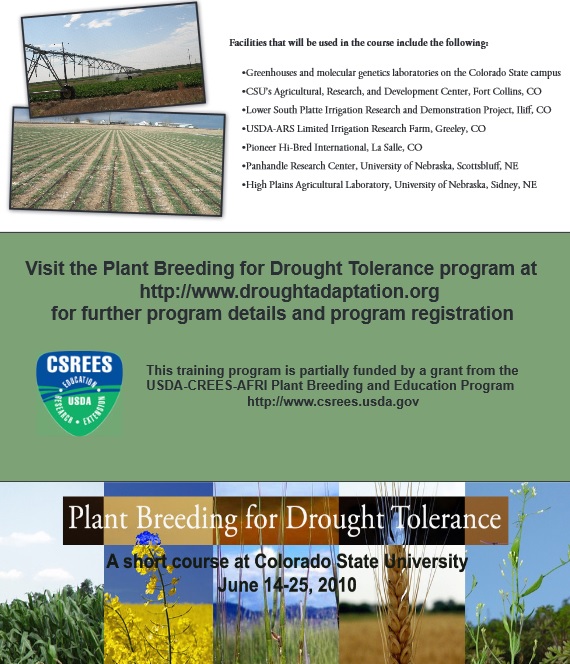 To respond to the need for more plant scientists trained in developing drought-tolerant cultivars, Colorado State University, University of Nebraska-Lincoln, and Oklahoma State University will offer a short course in Plant Breeding for Drought Tolerance from 14–25 June 2010. The course will be held at Colorado State University in Fort Collins and at experimental field sites in Eastern Colorado and Western Nebraska.
Target audience
Graduate students in the plant sciences, as well as professionals in the public and private sectors. The course will provide three transferable graduate-level credits.
Content
The course will consist of classroom lectures, hands-on lab exercises, and field research activities appropriate for a drought breeding and genetics programme. Course activities are designed around three modules:
Whole Plant Physiology of Drought Stress
Plant Breeding for Drought Stress Tolerance
Genomic Approaches to Drought Stress Tolerance
Prerequisites
Participants should have a solid understanding of basic plant physiology and genetics. Prior to the short course, students will review online material on these topics to provide a common background in breeding and physiology concepts.
Symposium
The course will culminate in a two-day Plant Breeding for Drought Tolerance symposium, also open to the public, to be held at Colorado State University.
Deadline for application: 1st February 2010
For more details on course content, fees, funding opportunities and for information on how to apply for the programme, please consult the

Plant Breeding for Drought Tolerance Brochure.
GCP socio-economic studies now online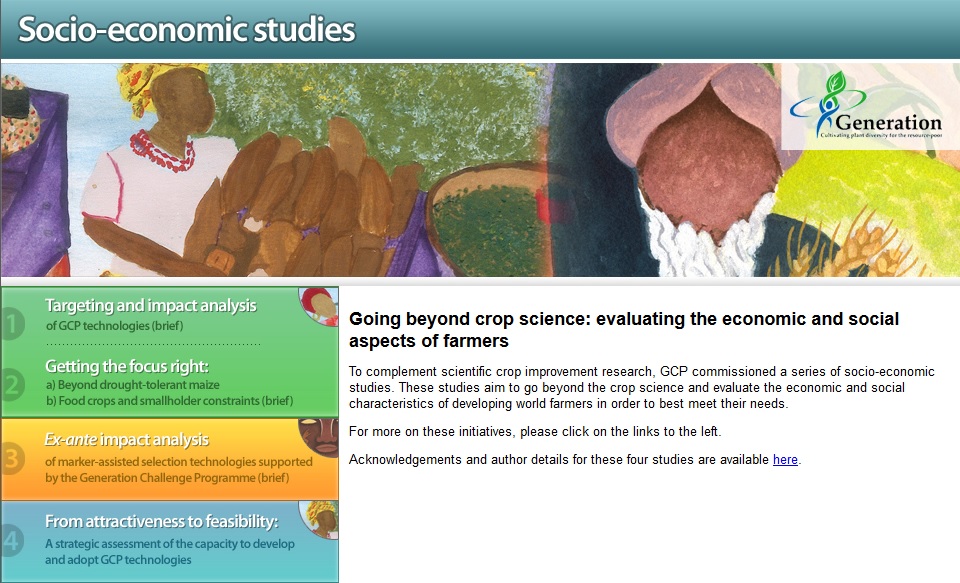 Results from a series of GCP-commissioned socio-economic studies are now available online . The studies were designed to complement ongoing GCP crop improvement research through the evaluation of social and economic characteristics of developing world farmers Materials available in the newly-created Socio-economics website include data, final conclusions, supplementary materials and – where available – a brief, summarising the recommendations of each study, based on study objectives and outcomes.
The following four studies are now available:
1) Targeting and impact analysis of Generation Challenge Programme (GCP) technologies
Through the compilation of multiple datasets, this study determined areas in the developing world experiencing the highest levels of poverty, poorest crop yields, and greatest susceptibility to drought. From the study, 15 regions were identified as high-priority focal areas for future GCP research (see Study 2b below, Getting the focus right: Food crops and smallholder constraints below).
2) Getting the focus right:
a) Beyond drought-tolerant maize: study of additional priorities in maize
A pilot study was commissioned to determine production constraints specific to maize. More
b) Food crops and smallholder constraints
Building on both Study 1 and Study 2a above, this study determined the main production constraints across 14 of the 15 high-priority regions identified by Study 1. A list of potential solutions was also formulated.
3) Ex-ante impact analysis of marker-assisted selection technologies supported by the Generation Challenge Programme
In order to better understand the economics of marker-assisted breeding (MAB), researchers of this study gathered information on crop yields, farmer adoption rates, market prices, cultivated land area, breeding times, input prices, costs of development, and more. These extensive data are a firm foundation for computing the net present value (NPV, ie, future benefits less future costs) of using MAB rather than phenotypic selection.
4) From attractiveness to feasibility: A strategic assessment of the capacity to develop and adopt GCP technologies (in progress)
To complement the aforementioned socio-economic studies which have identified priority farming systems for GCP investments, this study takes a different perspective, examining the extent to which a given region can adapt and adopt such technological advances, to ensure that GCP efforts achieve maximum results. In this way, the study seeks to identify capacity issues and determine whether GCP technologies are both attractive and feasible for end-users. Commissioned in 2008, this study is still in progress.
To learn about other resources and tools from GCP's Subprogramme 5, please visit our Capacity-building corner.
2009 ARM materials now online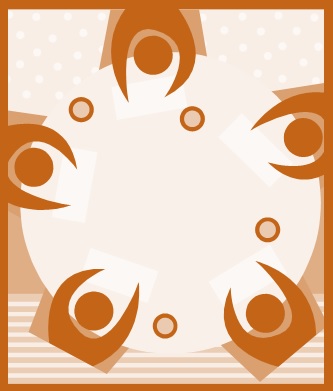 From 20–23 September 2009, GCP researchers and partners gathered in the Malian capital of Bamako for GCP's 2009 Annual Research Meeting. The event, whose 150-plus participants included both new and familiar faces from the GCP research community, followed a tightly-packed schedule: there were plenary and break-out sessions for formal presentations in which GCP collaborators demonstrated their latest project results; smaller, brainstorming/panel discussion groups for the exchange of views and research ideas; lively poster sessions; and a field trip, allowing for very positive interactions with farmers and research station staff.
Outcomes from the meeting, including presentations, poster PDFs, rapporteur reports and photographs are now available online.
Research Fellowships opportunity: linking agricultural research to innovation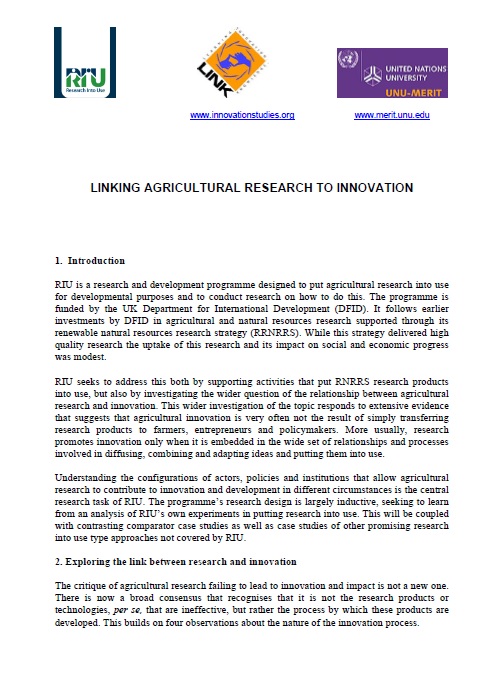 The 'LINK' programme of UNU–Merit (a joint research and training centre of United Nations University and Maastricht University, The Netherlands) is seeking six research fellows to work on a major study of agricultural innovation processes and policies in Asia and Africa. The programme is open to regional candidates with a research track record allied to innovation studies who are interested in writing cases studies, undertaking reviews and publishing in peer review journals.
Eligibility criteria:
Research experience in agricultural and rural innovation policies and processes
A recent relevant PhD is desirable, but candidates with a strong relevant publication record would also be considered
Positions could be full- or part-time.

Further details on the position and on how to apply
TLI collaborators develop genetic map for cowpea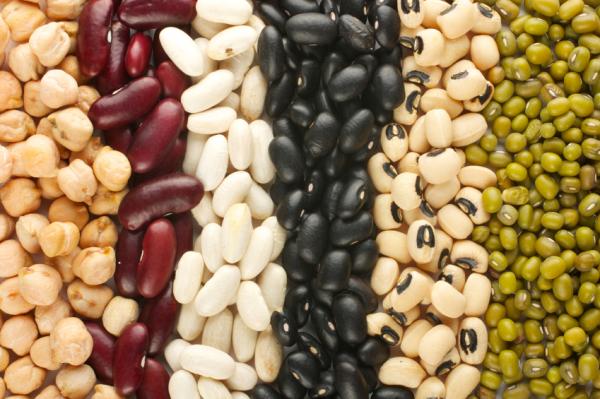 Researchers of GCP's Tropical Legumes Improvement project have developed a high-density consensus genetic map of cowpea, accelerating conventional breeding and facilitating the production of new varieties of not only cowpea but also other legumes such as soybean and common bean. Results of this study can be found in an online edition of the Proceedings of the National Academy of Sciences, are also highlighted in a University of California–Riverside press release.
To view both the published paper and the press release, please visit our Tropical Legumes Improvement publications page.
To view more publications resulting from other GCP projects, please visit our Research publications page.