How to build research partnerships that benefit farmers
EXTRACT: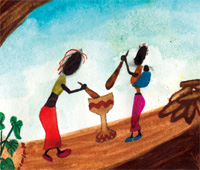 "A key challenge in true partnership is to strike the right balance between management that serves the programme as a whole and creating ownership so all partners can nurture a network spirit.

True partnerships are vital for linking 'upstream' innovation to 'downstream' uses, says CGIAR's Jean-Marcel Ribaut.
Agricultural research for development spans a broad spectrum of activities — from 'upstream' research, generally at universities or advanced research institutes, to much more 'downstream' research by plant breeders to put better crops in farmers' hands.
As a result of this spread, activities can become fragmented, with little communication between specialised teams along the research & development (R&D) chain. This is often counterproductive, especially when researchers stretch beyond their area of expertise.
In addition, broader and more diverse research portfolios often compromise efficiency and create unhealthy competition for funding. And resulting research projects may never turn into products that improve farm productivity.
True and effective partnerships — connecting the right people from complementary teams — is one obvious way to improve R&D effectiveness."
SciDevNet, 9 July 2014
Plant breeding: Discovery in a dry spell
EXTRACT: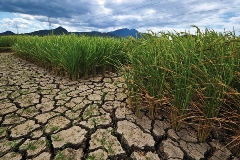 "Improved crops have helped farmers maintain yields in times of drought. But as climate change looms, will the gains keep coming?
Building local capacity for research and development (R&D) can also help accelerate progress. But this is heavily dependent on local governments and private-sector investment, so progress varies from crop to crop, and region to region. The Bill & Melinda Gates Foundation has been a powerful force in this regard, expanding local access to drought-tolerant crop varieties and building regional expertise.
Two such projects are the Generation Challenge Programme, an initiative from CGIAR (the Consultative Group on International Agricultural Research) that aims to strengthen agricultural R&D in the developing world, and the Water-Efficient Maize for Africa (WEMA) project, a public–private partnership that unites agricultural researchers in Uganda, Kenya, Mozambique, Tanzania and South Africa with international experts in the public and private sectors."
Nature, 25 September 2013
New chickpeas set to increase food security

EXTRACT:
"Chickpeas are the world's second most widely grown legumes, providing protein and acting as a staple food in the developing world. Known as the 'orphan crop' due to their narrow genetic base, farmers have been forced to plant low yielding varieties as there were no other options available to them, until now. Scientists from the Generation Challenge Programme (GCP) have successfully completed the draft genome sequence of chickpeas."
DFID Research, 5 April 2013
Sorghum farming key to food security – experts
EXTRACT:

"Patricia Ondere has been growing maize, beans and groundnuts on her two-acre farm in Sega, Siaya County, Kenya. She's lately added sorghum.

Samuel Gudu, genetics and plant breeding expert, says sorghum has enormous potential. Many farmers over-depend on maize, which is the country's staple crop at the expense of other viable crops suitable to address perennial food shortage."

[Samuel Gudu is a GCP researcher working on this comparative genomics sorghum project, among others]

The Star, Kenya, 10 May 2013
In triplicate, genes make maize tolerant to toxic soil