WACCI seeks new candiates for PhD programme, January 2010
Tuesday, 24 February 2009 18:00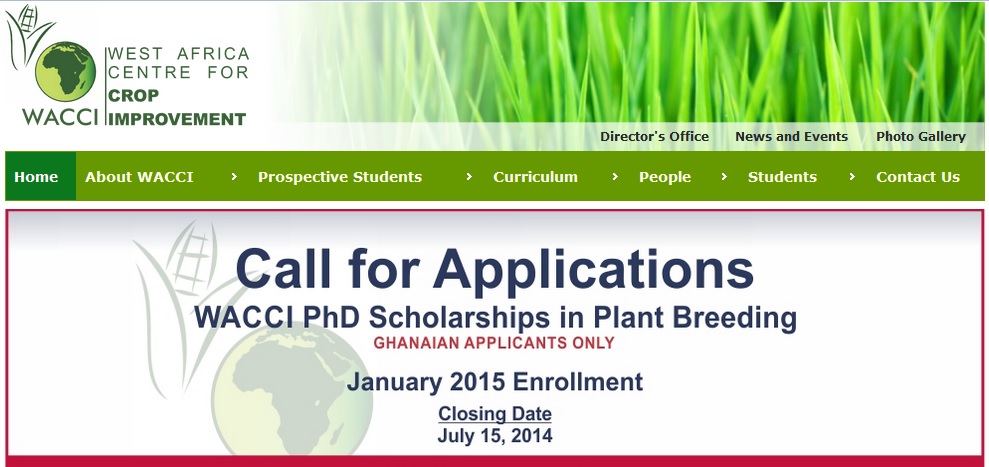 The West Africa Centre for Crop Improvement (WACCI) was established in June 2007 as a semi-autonomous centre at the University of Ghana. Funded by the Alliance for a Green Revolution in Africa, the centre's remit is to train 40 PhD students in Plant Breeding over a ten-year period.
With 18 students already enrolled and making good progress at the centre, WACCI is now seeking applications for enrollment in January 2010. Selected winners will follow a five-year programme, incorporating two years of academic study at the University of Ghana followed by three years of field research at the students' respective research stations/Universities in their home countries, leading to the award of a Ph.D in Plant Breeding upon successful completion.
The course work and research will focus on the following West Africa food crops:
Cereals: maize, rice, sorghum and millet
Roots and tubers: cassava and sweet potato
Legumes: cowpea and groundnut
Vegetables: tomato and pepper
The geographical focus of the programme will be West Africa, with initial emphasis on Ghana, Nigeria, Burkina Faso, Mali and Niger.
Eligibility
The WACCI programme is designed for full-time, professional plant breeders who will go on to build careers in breeding new cultivars of food crops. Prospective students must:
hold an MSc/MPhil in Plant Breeding, Plant Genetics, Plant Pathology, Horticulture, Crop Science, Applied Entomology, Applied Nematology or equivalent degree.
hold a position as an agricultural research scientist in a national research institute or university in his/her home country, so that he/she can return to his/her home country to conduct the field research for the PhD thesis.
be under the age of 40
have a test score of at least 550 (paper test) or 213 (computer test) on the Test of English as a Foreign Language (TOEFL) in the event that English was not the language of instruction at undergraduate or postgraduate level
Deadline for applications: 31st March 2009