Serious cereal addiction: blogposts on maize and rice research hit the spot
Thursday, 08 May 2014 11:27
Now our blog spotlight swings to some of what's happening in cereal research at GCP, with a closer look at the science side of two profiles recently featured in the International Women's Day media extravaganza.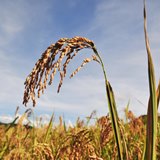 Waving farewell to rice...
...and a warm welcome for maize
from Rebecca Nelson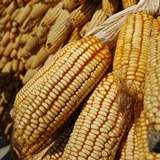 Serial cereal scientist connects rice and maize crossing continents
Introducing Rebecca Nelson (Cornell University, USA), whose research career took her from across the Americas to Asia and back again, with regular stops in Africa along the way. She also switched cereals during that time, from rice to maize, with GCP laying the cement in the middle. Says Rebecca: "We were really grateful that GCP funded us so we could continue to understand and build resistance to rice blast and bacterial blight, and to connect the work on rice and maize."
GCP was involved in a few crucial collaborations for Rebecca, as she joined forces for rice with Hei Leung (International Rice Research Institute – IRRI, then also GCP's Genomics Subprogramme Leader), and for maize with James Gethi (Kenya Agricultural Research Institute – KARI, currently on sabbatical at CIMMYT). She also helped establish fellow GCP researcher Masdiar Bustamam's molecular-breeding laboratory at the Indonesian Center for Agricultural Biotechnology and Genetic Resources Research and Development (ICABIOGRAD). Today, Rebecca oversees her own laboratory at Cornell and is also a scientific director for one of the McKnight Foundation's grant programmes. More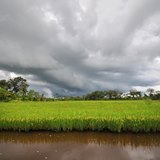 The looming clouds of climate change
forecast flash floods and rising seas:
double trouble for rice
Rice researcher with singular vision delivers double
Our next post is on rice researcher, Armin Bhuiya, who is firmly a one-cereal scientist, though her research has seen her doubling up on traits, by studying both salt and submergence tolerance – in both her native Bangladesh, and at IRRI in the Philippines. For Armin, it seems that 'two is the magic number', as this pattern of duality has continued throughout her research career, as we shall see. First, she arrived at her research topic by consulting with farmers and fellow scientists, as both tides and flash floods affect rice crops in South and Southeast Asia, so that inland and coastal areas could both benefit from her work. As if that wasn't already enough 'twosomes', the couples continue: during her PhD programme (jointly funded by GCP and DuPont Pioneer), she successfully combined conventional and molecular breeding, conducting research with two different mapping populations. To cap it all, she is now both student and teacher back home in Bangladesh, where she is continuing her studies and teaching modern molecular plant-breeding methods to students and colleagues alike. More
---
Our next blogposts in the continuing cereal series will bring in more cereals, a few more women scientists, not forgetting our many men scientists. Watch this space!
In the meantime, here are more profiles of our researchers.