Preparing for IBP Phase II, and for GCP's sunset
Wednesday, 22 January 2014 22:53

In preparation for Phase II of the Integrated Breeding Platform (IBP) which will outlive GCP, the Transition Taskforce will reconvene from 25th to 27th February 2014 in Paris, France. The meeting's main purpose is twofold:
to evaluate bids for hosting IBP; and,
to make recommendations on the governance, management and operational structures for the Platform's post-GCP future.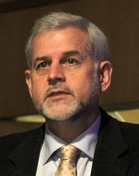 Alongside, in preparation for GCP's sunset, and as part of the process for assuring orderly Programme closure and the integration of GCP-initiated projects that will continue beyond GCP's lifetime into the most appropriate initiatives, we're pleased to introduce Peter Ninnes (pictured), our consultant Transition Manager. Peter is not new to most of you, having previously worked at CIMMYT, and more recently at ICRISAT. He joined GCP in this new capacity on 15th December 2013, and will be relocating to GCP's headquarters in Mexico towards the end of this month.
No doubt, Peter will be contacting some of you as part of his new docket, and we trust that you will accord him your usual cooperation in true GCP spirit.
Welcome on board, Peter! ( This email address is being protected from spambots. You need JavaScript enabled to view it. )