Post-Doctoral Bioinformatics Scientist Vacancy
Thursday, 19 August 2010 19:00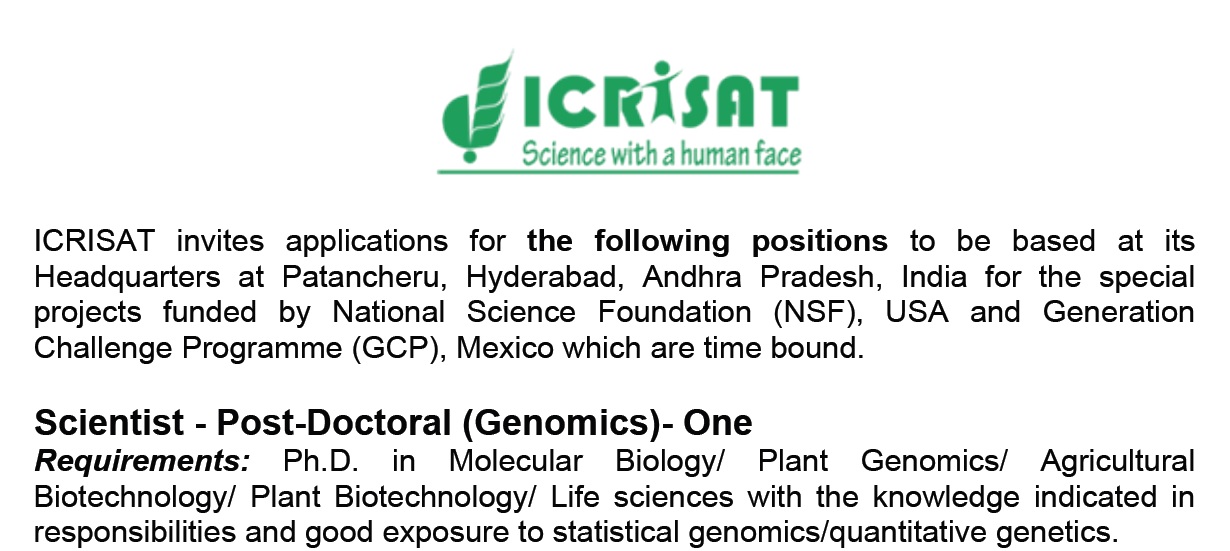 The International Crops Research Institute for the Semi-Arid Tropics (ICRISAT) is requesting applications for the position of Post-Doctoral Bioinformatics Scientist, to work on a special project, funded by the Generation Challenge Programme (GCP), on NGS data analysis tools and pipeline.
This position is open only to Indian nationals who hold a Ph.D in Bioinformatics/ Life Sciences with specific practical knowledge of: optimization of tools and development of pipelines for analysis of next generation sequencing (NGS) data, perl scripting, development of bioinformatic tools/ databases for sequence and gene expression analysis. Knowledge in Java programming and database design is an added advantage.
This national position, based at ICRISAT headquarters in India, is for an inital period of one year, with possibility for renewal subject to performance and necessity.
Deadline for applications: August 25, 2010
For further details on the position, organisation and on how to apply, please download the Vacancy Announcement.