New shoots of a green revolution in Africa: Disease-resistant cassava varieties put down roots in Tanzania
Tuesday, 31 January 2012 15:06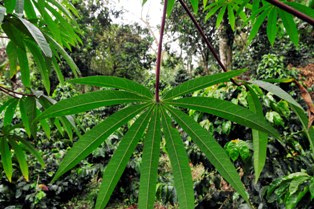 Cassava leaves

In mid-November 2011, the UN Food and Agriculture Organization (FAO) released a press statement expressing alarm at the spread of the cassava brown streak disease in the East Africa Region, saying it is on the verge of becoming an epidemic with grave implications for food security and livelihoods. The agency called for increased funding, research and surveillance to contain the disease.

Just weeks later, GCP is delighted to announce the official release of four cassava varieties, bred through marker-assisted selection (MAS), and extensive collaboration combining the knowhow of multi-institutional agricultural experts worldwide and funding from various agencies.

These varieties of Manihot esculenta have manifold benefits: dual resistance to cassava mosaic disease (CMD) and cassava brown streak disease (CBSD), and productivity potential of up to double the yield of existing commercial varieties.

Of the four varieties released, two are for the coastal belt while the other two are for the semi-arid agroecologies of Central Tanzania.

The variety release is a triumph of hard work over adversity as cassava is a scientifically complex crop to research and breed, and this tremendous collaborative effort brought together research institutes including the Agricultural Research Institute (ARI), Naliendele, Tanzania; the Nigerian National Root Crops Research Institute (NRCRI); the International Center for Tropical Agriculture (CIAT); the International Institute of Tropical Agriculture (IITA); the Donald Danforth Plant Science Center (DDPSC) in USA; and the CGIAR Generation Challenge Programme (GCP). Funding was also a collaborative effort, with support from The Rockefeller Foundation, GCP, Tanzania's Ministry of Agriculture and the Alliance for a Green Revolution in Africa (AGRA).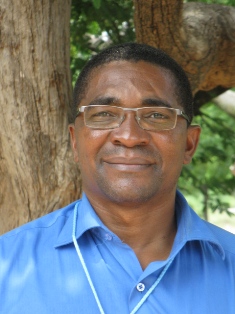 Geoffrey Mkamilo
The potential reach and impact of this project can be appreciated in the words of the project leader, Dr Geoffrey Mkamilo (pictured) of ARI, "I am now confident that we can make a green revolution in Africa happen!"
Members of the GCP-supported Cassava Breeders Community of Practice have heartily congratulated the Tanzania team for this release, expressing hope that this effort will soon be felt in the lives of "...the poor cassava farmers suffering from the ravages of CBSD," to quote Dr Heneriko Kulembeka of ARI who was part of the project technical team.
Dr Chiedozie Egesi and his colleagues at NRCRI have offered the Tanzania team the benefit of NRCRI's expertise to ensure quick delivery to farmers, drawing on experience gained following the December 2010 release in Nigeria of UMUCASS33, a disease-resistant high-yielding cassava variety, which, like the four new Tanzanian varieties, is also of joint African and South American parentage.
In a congratulatory message to Dr Mkamilo, GCP's Product Delivery Leader and Cassava Research Initiative (RI) facilitator, Dr Larry Butler, remarked: "Once again, a cassava team has demonstrated the efficacy of using marker-assisted selection to develop improved varieties. You and your team should be justifiably proud! The incorporation of CBSD resistance is particularly exciting!"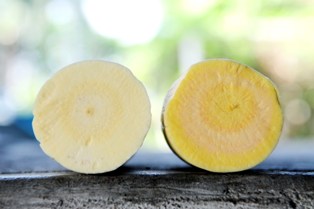 Peeled cassava
Dr Emmanuel Okogbenin of NRCRI, who is Product Delivery Coordinator for GCP's Cassava RI, commented: "We are very pleased at the release of these varieties which are remarkably distinct for combining both CMD and CDSB resistance. I hope our current research drive...will build on this success to develop new-generation varieties for East Africa." He observed that the next challenge is transferring these new dual-resistance varieties to West Africa under controlled conditions for pre-emptive breeding, without introducing CBSD into that region which is still free of the scourge.
For more information: please contact This email address is being protected from spambots. You need JavaScript enabled to view it. .