Gene flow book co-written by SP5 Leader now available
Monday, 25 January 2010 18:00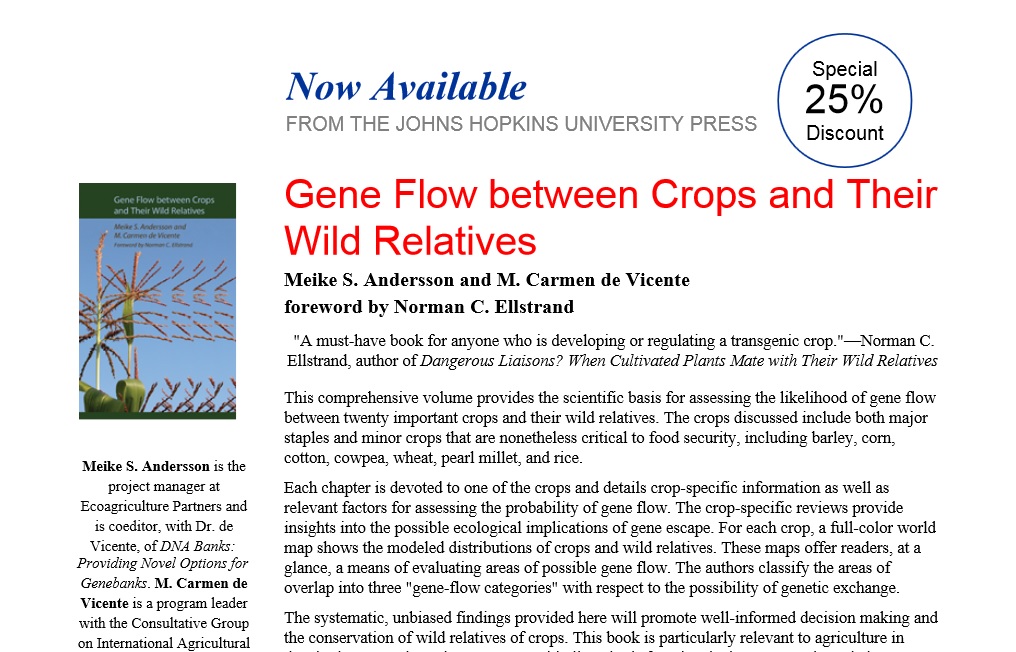 Following our announcement of last year on a soon-to-be-published book co-written by GCP SP5 Leader Carmen de Vicente, we are pleased to announce that the book, entitled Gene flow between crops and their wild relatives, has been published by Johns Hopkins University Press and is now available in the public domain.
The publication, which has been praised as a "must-have book for anyone who is developing or regulating a transgenic crop", provides the scientific basis for analysing the chances of gene flow and introgression from twenty genetically-modified crop varieties to their wild populations. The book examines both major staple and minor, or 'orphan', food crops considered vital to food security, including barley, maize, cotton, cowpea, wheat, pearl millet, and rice.
Through crop-specific analyses of the possible ecological implications of gene escape, together with full-colour world maps demonstrating the modeled distributions of crops and wild relatives, readers are offered a means of a means of evaluating areas of possible gene flow.

In presenting systematic, non-biased findings, the book promises to promote well-informed decision making and the conservation of wild relative crops, representing a key tool for anyone working towards the goal of food security whilst also preserving crop biodiversity.
GCP extends its congratulations to Carmen for this this most noteworhy achievement!