GCP's Interactive Resource Centre and Helpdesk now on Facebook!
Wednesday, 21 April 2010 19:00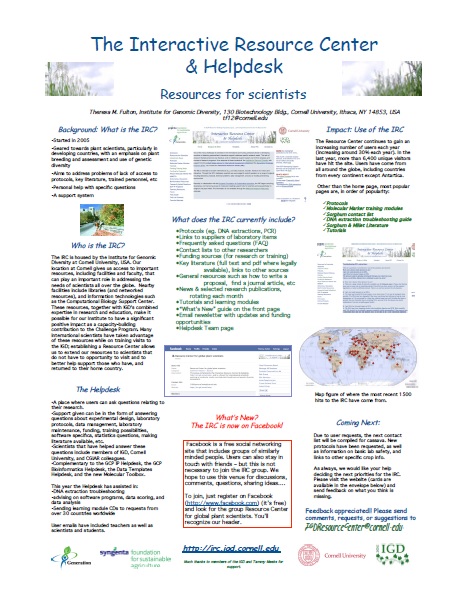 For those who are yet to explore, or who are looking to rediscover, the Interactive Resource Centre and Helpdesk – a collaborative project from GCP and Cornell University's Institute for Genomic Diversity (IGD) – we highly encourage you to do so via the user-friendly social media tool that is Facebook (a free social networking site that includes groups of similarly-minded people), with a section having been dedicated entirely to the centre.
With 131 group members to date (as of 21st April 2010), the online space is intended to complement the centre & helpdesk, acting as a forum for international scientists working on molecular marker-assisted plant breeding and genetic diversity assessment. The content of the site is open to all.
The launch of the centre & helpdesk on Facebook was first unveiled to the GCP community during a poster session at the 2009 Annual Research Meeting, with this particular poster – penned and presented by the project's Principal Investigator Theresa Fulton – having won the prize for best poster under Theme 4, Support services and enabling delivery.
To visit the Interactive Resource Centre and Helpdesk, please visit the GCP Helpdesks page.
Additional tools, resources and services are available in the GCP's Capacity-building corner.