Call to the wild: groundnuts collect on kinship from 'country cousins'
Thursday, 08 May 2014 10:13
In a brand-new blogpost, Vincent Vadez of the International Crops Research Institute for the Semi-Arid Tropics (ICRISAT), and our research leader for groundnuts in the Legumes Research Initiative, walks us through the pitfalls and pedestals groundnuts are wont to fall and rise to, making the crop something of a research rollercoaster ride! The lows for this legume include poor yield, and a predisposition to diseases, drought and pests. Add to this a complex genetic structure, narrow genetic diversity and a reputation for slow and difficult breeding, and you have one complicated crop!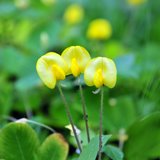 Groundnut flowers.
Bright country cousins have the right stuff!
Vincent goes on to explain that this is where family comes in useful, with groundnuts' sturdy wild relatives lending a helpful gene or two to fortify their cultivated 'city cousin' (despite a few family feuds along the way). Mix in maps, models, and molecular breeding, which are some of the milestones along the motorway to success.
Switching gears from the crop to people, family is also the key to success with the groundnut research family stretching from ICRISAT to Africa (Malawi, Senegal and Tanzania), and beyond to the Brazilian Agricultural Research Corporation (EMBRAPA), France's Centre de coopération internationale en recherche agronomique pour le développement ‒ CIRAD, and USA's University of Georgia.
Find out more about why 'variegated' partnerships and variety selection are indeed the spice of groundnut research life in the full blogpost.
Links: Groundnut – research | research products | InfoCentre | videos | blogposts