Go back to Legumes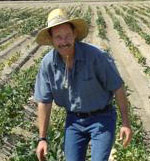 Educational background
Ph.D. Genetics, University of California, Davis, 1984; M.S. Vegetable Crops, University of California, Davis, 1980, B.S. Plant Science, University of California, Riverside, 1979.
Role in the TLI project
I currently serve as Principal Investigator of Objective 2 (Improve cowpea productivity for marginal environments in sub-Saharan Africa) of the Generation Challenge Programme project "Improving tropical legume productivity for marginal environments in sub-Saharan Africa" (termed the "Tropical Legumes 1"or TL-I Project). This project focuses on improving the productivity of legume crops of high importance to food security and poverty reduction efforts in sub-Saharan Africa through coupling of modern biotechnologies with applied breeding efforts.
Scientific interests
My research interests are genetic improvement, genetic diversity analysis, and identification of genes for drought tolerance and resistance to insect pests in cowpea. I conduct an applied cowpea breeding program developing improved cowpea varieties for the US, and improved germplasm for countries in Africa. Since 1992, I have been closely involved with the USAID-funded Bean/Cowpea Collaborative Research Support Programme (now called 'Dry Pulse Collaborative Research Support Program') that supports research and training activities in several African and Latin American countries. I maintain a cowpea germplasm collection of 5,000 accessions and provide seeds from this collection to scientists all over the world.
Professional affiliation
Crop Science Society of America, American Society of Agronomy
Publications
Hall AE, Singh BB, Ehlers JD (1997) Cowpea breeding. In Janick, J. (ed.), Plant Breeding Reviews, Vol. 15. John Wiley & Sons, Inc., New York, pp 215-274.
Timko MP, Ehlers JD, Roberts PA (2006). Cowpea. In: Kole, C (ed) The Genomes: A Series on Genome Mapping, Molecular Breeding & Genomics, Science Publisher, Inc., Enfield, New Hampshire. In Press
Fang, J., C.C. T. Chao, P.A. Roberts, and J.D. Ehlers. 2007. Genetic diversity of cowpea [Vigna unguiculata (L.) Walp.] in four West African and USA breeding programs as determined by AFLP analysis. Genet Resour Crop Evol. 54:1197-1209.