Wheat examined: Crucial questions, with answers from Richard Trethowan on video
Wednesday, 20 November 2013 12:48
The reasons to invest in wheat research are manifold, as recounted by Richard Trethowan in a brand-new six-part Q&A video series on wheat research at GCP.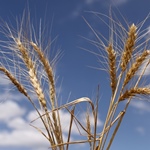 Richard, who is GCP's Product Delivery Coordinator for wheat, Professor of Plant Breeding and Director of the Watson Grains Research Center at the Plant Breeding Institute, University of Sydney, Australia, takes us back to the distant past to a set of ancestral species which have shaped and nourished mankind for millennia. He begins by explaining how wheat – a Sergeant Major in the cereal army – is a fundamental force in the battle against food insecurity, how its full firepower is yet to be tapped by plant science, and carries out a comprehensive reconnaissance mission on the crop's geographic limits.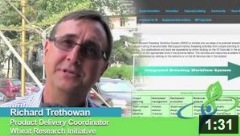 In Part 2 he goes on to discuss the nations occupying the first and second slots in wheat production worldwide – China and India – and offers an apt equation for increasing production whilst working against the odds with an increasing population and a constantly changing climate. Part 3 examines the seasonal varieties of wheat grown in different regions of China and India, which partially explains the disparity in production between the two countries. GCP's Integrated Breeding Platform (IBP) is the topic of Part 4. Richard sets the scene for wheat researchers in today's information-overloaded world, pinpointing IBP as a source of useful tools for making the most of available breeding data.

Part 5 talks uptake of tools touched on previously. Here, Richard laments how developed-country users might feel locked into a long-used legacy system, whilst simultaneously celebrating the chance for developing countries to forge ahead with the new technology. In Part 6, he delights in the diversity of doers from different destinations involved in the IBP initiative, and ends on a high note, stressing how stakeholders the world over can benefit from IBP technology.
See the series in full and vivid colour on the GCP YouTube Channel! Alternatively, you can get the whole wheat helping in the consolidated video version here.