Stepping in from the cold with scientific touchstone – Sorghum reference set 'reloaded'
Monday, 27 May 2013 13:14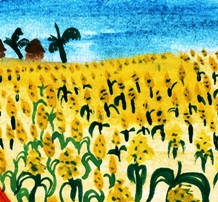 A CIRAD-led team has just completed a huge genetic study covering more than 3,000 sorghum 'candidates' to encompass sorghum's broad diversity. Such studies ensure that genetic collections do not just sit on shelves and in the lab, but come out of cold storage, moving from purely conservation goals into practical use. CIRAD (Centre de coopération internationale en recherche agronomique pour le développement) reports that this recently completed study is one of the broadest on genetic diversity for a cultivated crop. GCP funded this work.
The resulting 'reference set' (a sub-sample derived from – and representative of – existing collections) will guide future genetic studies. Across the planet, there are many – and vast – collections of sorghum. However, their sheer size, dizzying variety, and divergent goals make it difficult to meaningfully study sorghum's genetic diversity on a global scale for the benefit of agriculture to improve food security.
Sorghum is the world's fifth most important cereal, whose centre of diversity is nestled in northeastern Africa. The researchers found that sorghum from West Africa, southern Africa and eastern Asia was the most homogenous and the best differentiated. On the other hand, with an average of 19 alleles per locus, sorghum from eastern and central Africa registered the highest allelic diversity.
The CIRAD team used 41 genetic markers in their study, and worked in concert with partners from the International Crops Research Institute for the Semi-Arid Tropics (ICRISAT), the Chinese Academy of Agricultural Sciences and Bioversity (all four are GCP Consortium members).
The microsatellite marker kit employed by the researchers can be used to characterise new sorghum material, which can now be easily compared to known genetic resources. It will therefore be a good stimulus for international sorghum research collaboration to utlise sorghum's genetic diversity to boost food security.
More details are on the IBP website and on the CIRAD website (French | English)
Links
Related journal articles
GCP research and products
IBP website