Orphan no more: Chickpeas join exclusive 'closed club' in the crop world
Monday, 28 January 2013 07:13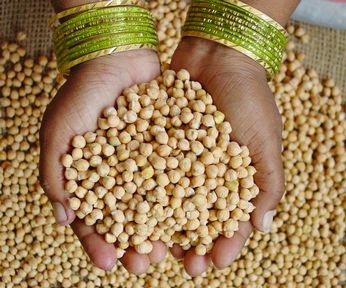 Just as this time last year, the genomics crack-team has done it again!
In an auspicious start to 2013, scientists have successfully completed the draft genome sequence of chickpeas.
This good news is revealed in an open-access article published today in Nature Biotechnology, entitled Draft genome sequence of chickpea (Cicer arietinum) provides a resource for trait improvement.
The study describes the genome sequence of 90 cultivated and wild chickpea genotypes from 10 countries. This is a veritable treasure trove of genomic resources, and paves the path for modern breeding to improve this important food crop – a great boost for chickpea farmers in the developing world.
The work was conducted under the auspices of the International Chickpea Genome Sequencing Consortium (ICGSC), comprising of 49 scientists from 23 institutes spanning Asia, Australia, Europe and North America. This chickpea sequencing project was partially funded by GCP.