New journal articles from GCP collaborators
Monday, 26 April 2010 19:00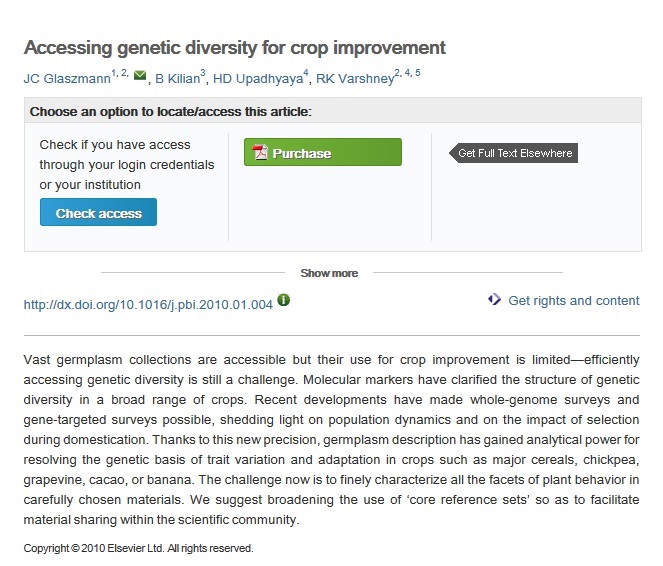 GCP research has received attention recently with three key articles resulting from GCP-funded research being published in highly steemed journals.
Accessing genetic diversity for crop improvement was published in the online version of highly esteemed journal Current Opinion in Plant Biology in February 2010, and has been recommended by the Science Direct website. The paper, authored by GCP Subprogramme 1 Leader Jean Christophe Glaszmann, Subprogramme 2 Leader Rajeev Varshney, and scientists B Kilian (Leibniz Institute of Plant Genetics and Crop Plant Research, Germany) and HD Upadhyaya (ICRISAT), gets to the very heart of matters central to GCP's mission as it examines approaches to broaden the use of 'core reference sets' so as to facilitate material sharing within the scientific community. The print version of the paper is currently in press, and expected to be published in due course. Details on this Journal article are available via our Research publications page.
Similarly, collaborators on GCP's project G4007.13.03 – Application of molecular tools for controlled wild introgression into peanut germplasm in Senegal – a Subprogramme 5 Capacity-building project led by Ousmane Ndoye of l'Institut sénégalais de recherches agricoles (ISRA), have seen the results of their work published in two separate journals:
Faye I, Foncéka D, Rami J-F, Tossim H-A, Sall MN, Diop AT and Ndoye O (2010). Inheritance of fresh seed dormancy in Spanish-type peanut (Arachis hypogaea L.): bias introduced by inadvertent selfed flowers as revealed by microsatellite markers control. African Journal of Biotechnology 9 (13):1905–1910. PDF
Foncéka D, Hodo-Abalo T, Rivallan R, Faye I, Ndoye Sall M, Ndoye O, Fávero AP, Bertioli DJ, Glaszmann JC, Courtois B and Rami J-F (2009). Genetic mapping of wild introgressions into cultivated peanut: a way toward enlarging the genetic basis of a recent allotetraploid. BMC Plant Biology 2009, 9:103. DOI:10.1186/1471-2229-9-103. PDF
To view a full list of GCP publications, please visit our Research publications. For media attention and related publications, please visit our Public awareness webpage.