Cowpea research – the leaders and the science
Tuesday, 06 May 2014 16:01
Our recent cowpea blogposts have it all: adventure, drama…romance, even, as we share with you a legume love affair second to none. Sample this…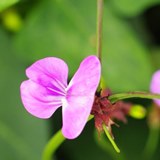 Passion blooms bright: cowpea flower in the field

Breaking barricades and a personal passion: cowpeas tap into genomics revolution
First, travel with us through the mists of time to unravel how cowpeas came to be part of GCP's Tropical Legumes I (TLI) Project back in 2007, with the original avant gardener himself, Jeff Ehlers (now with the Bill & Melinda Gates Foundation). Jeff constantly honed the cutting edge of cowpea research as the genomics revolution dawned. In this golden-green blogpost, we are California Dreamin' with Jeff as we learn how his green-fingered grassroots grew deep and strong to catapult the lowly cowpea to the court of crop-breeding elites, as he and his former team at the University of California–Riverside (UCR), USA, brought the former 'orphan' crop in from the cold. Jeff commends the collaborative model employed by GCP, celebrates the nurturing power of community spirit, emphasises the importance of capacity building, and looks to the future of crop research with GCP's Integrated Breeding Platform (IBP) offering tools and training on modern breeding. More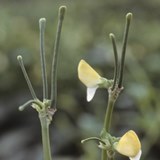 Cowpea flower pods standing tall

From laid back to standing tall
Our next blogpost focuses on cowpeas' very character, with Phil Roberts (UCR) taking up the mantle of cowpea connoisseur from Jeff Ehlers as TLI cowpea research leader.
Unlike some legumes known for their questionable manners and 'difficult' personalities (but we shall name no names!), cowpeas are etiquette personified, characterised as easy-going, adaptable and popular – they're the most important grain legume in sub-Saharan Africa for subsistence and cash. Unfortunately, cowpeas are so laid back, they're almost lying down: they are easy prey for pests and disease, depressing yields to unacceptable lows.
Enter Phil and team, to shake the metaphoric shoulders of this laidback legume with modern breeding. In Phil's own words, with molecular methods, "It's a lot easier and quicker, and certainly less hit-or-miss than traditional methods!" More