Join a new, lively and interactive network on agricultural genomics, breeders welcome!
Friday, 19 April 2013 14:59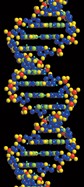 Calling genomics professionals and crop breeders
As part of GCP's community-building efforts and implemented through our Integrated Breeding Platform (IBP), GCP's Theme 1 (Comparative and Applied Genomics) has established the Agricultural Genomics Network (AGN).
AGN's principal objectives are:
to develop a community to discuss advances in genomics and provide critical appraisal of genomic technologies, tools and approaches;
to develop a portal that will present the information on tools, resources developed by GCP or available in the public domain either by hosting some of them, or by providing links to other existing databases and portals; and,
to broker access to economically priced large-scale sequencing, construction of variety of (BAC, cDNA, fosmid) libraries, physical mapping, sequencing and re-sequencing, etc, provided by third-party service providers.
In a bid to please our clients by 'meeting' them where they are, AGN's wings and horizons spread beyond the IBP portal to external professional networks.
for startes, we warmly welcome you to join AGN's dedicated LinkedIn forum – GCP-Agricultural Genomics Network. The forum offers interactions, discussions, activity planning and exchange of ideas to the genomics and breeding communities in developing and using modern genomic technologies, tools and approaches in breeding.
For more information, please feel free to contact This email address is being protected from spambots. You need JavaScript enabled to view it. , our Theme 1 Leader, or This email address is being protected from spambots. You need JavaScript enabled to view it. .
LinkIn and get engaged in this nascent, dynamic and growing network which is just under a month old today.