Applications invited: training on Next-Generation Sequencing Technologies for Crop Improvement
Thursday, 11 September 2014 14:14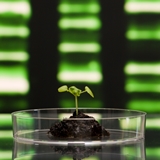 How to know your GAB from your HTPG using GBS? Ask ICRISAT–CEG!
CEG is the Center of Excellence in Genomics, based at the International Crops Research Institute for the Semi-Arid Tropics (ICRISAT) in Hyderabad, India. This is where the 11th training course on Next-Generation Sequencing Technologies for Crop Improvement will be taking place from 17th to 28th November 2014.
The course will decipher the cryptic code above, with participants learning the essentials of deploying genomics-assisted breeding (GAB) for crop improvement, taking into account recent advances in next-generation sequencing (NGS) including high-throughput genotyping (HTPG) approaches such as genotyping-by-sequencing (GBS).
Target: Interested scientists who practice, or have the potential to deploy, molecular breeding
Application deadline:

25

th

September 2014