Genomic advances caught in the Arachis web raise hopes of cracking the groundnut genome: GCP projects and other initiatives illustrated in prominent article
Friday, 09 March 2012 07:35
A recent article by a crack team of genomic experts, including several GCP researchers and GCP's Leader for Theme 1 (Comparative and applied genomics), Rajeev Varshney, has been published in the scientific journal Biotechnology Advances Vol 30, Issue 3.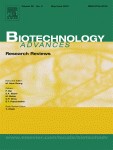 The article, entitled Advances in Arachis genomics for peanut improvement is based on work done in Objective 1 of GCP's Tropical Legumes I project plus through other initiatives, and recounts how – with the aid of advanced molecular biology (molecular markers, genetic and physical maps, generation of expressed sequence tags, etc) – the groundnut genomic research community has been tackling the challenging age-old problems associated with groundnut genomics and its architecture.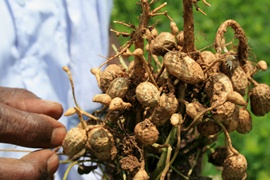 The article narrates the team's accomplishments as they wrestle to clear the bottleneck of low genetic diversity to pave way for the genetic improvement of groundnuts, and squabble with the wider family when reluctant (and quite possibly grumpy!) wild relatives with mixed 'street credentials' are invited to the groundnut gathering, amongst other feats.
In a pea-nutshell, the hope of cracking the genome of this tough nut (whose 'street' name is groundnuts or peanuts depending on where you are in the planet) is expected just around the corner.