Big on beans, blogs, videos and all
Wednesday, 20 March 2013 11:32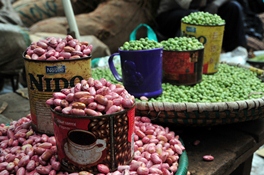 We've been big on beans lately, featuring ongoing work in our Legumes Research Initiative, and more specifically, the Tropical Legumes I project (TLI), wihich GCP leads. You can zoom in on our bean research here.
Our latest offering is a blogpost on breedings beans that beat the heat in Zimbabwe, with Godwill Makunde and Kennedy Simango, both from Zimbabwe's Crop Breeding Instititue.
Prior to that, late last year, we sat at the table with CIAT's Steve Beebe, and he walked us through how researchers are sidestepping variety to create new varieties to combat drought, disease and pests. Apparently, beans come in a mindboggling and bewildering broad array. This huge diversity is both a blessing and a curse, calling for careful 'navigation' and circumspection in the treachorous 'straits' in search of treasured traits in bean breeding. CIAT is leading the TLI work on bean breeding.
After that chat with Steve, our next stop was Awassa, Ethiopia, where we caught up with Asrat A Amele. Here, he tells us how the Selian Agricultural Institute (SARI) is breeding beans to better battle drought and disease.
And that's not all we did in Ethiopia: if you're one of those captivated by tales told in the true tradition of story-telling, with magic, fairies, beanstalks and all, then this blogpost is an a must read for you. Our ace field reporter weaves a riveting tale here of magic beans and giant beanstalks, seen through a communicator's eye and skillfully narrated.
To round things off and come full circle, on to video and back to Steve Beebe: we go one-on-one with him In this six-minute clip. Steve briefis us on current efforts to bridge the bean research breach by applying 'battle' tactics such as phenotyping, capacity building and cross-regional collaboration across Africa and Latin America. He describes how these TLI endeavours semalessly flow into the ICRISAT-led Tropical Legumes II project (TLII) which focuses on seed multiplication. In Africa, focus is on Ethiopia, Kenya, Malawi,Tanzania (TLII) and Zimbabwe. Watch the video
More videos to follow, so please watch this space!