All that glitters… is sometimes gold – GSS contributes to a winning PhD
Monday, 26 November 2012 14:38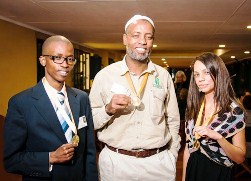 AbduRahman (middle) flanked by winners of the BSc Hons and MSc categories.
We are delighted to announce that one of our grantees in the Genotyping Support Service (GSS) scheme, who is also a CIMMYT PhD fellow, was honoured at the recently held annual postgraduate symposium of Botany and Plant Biotechnology at the University of Johannesburg (UJ), South Africa.
AbduRahman Beshir bagged the Gold Medal, PhD category, for the best PhD project presentation for 2012 entitled 'Quality protein maize: Towards achieving the Millennium Development Goals through better nutrition and stable yields'. The standards for selection were – among others – the significance of the project, the quality of the content, and delivery.
The UJ symposium is an annual platform at which selected postgraduate students (BSc Honours, MSc and PhD) from different universities present their research findings.
AbduRahman is a grantee in our 3rd GSS call.